Equipped to Lead and Succeed
USF Grad Practices Capitalism With a Conscience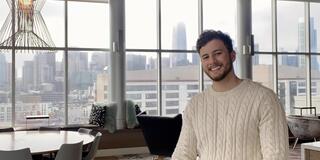 When Peter Quadrel '21 applied for a summer job at Target in April of his sophomore year, he was rejected. So he founded an advertising agency instead. 
Today, Odylic Media has five employees, a global network of freelancers, and 10 clients who, combined, have more than 20 million views on TikTok and more than $50 million in sales.
"Is it bad to make people want to buy things? Because at the end of the day that's what we do," Quadrel said.
He has no problem with capitalism. It's only ugly capitalism that he can do without.
"Some companies call themselves eco-conscious but their products aren't ethically sourced," Quadrel said. "These companies buy carbon offsets to reduce their climate impact but their suppliers use children to harvest organic cotton or to mine cobalt for the batteries in electric cars. Too many companies don't actually know where their supplies come from."
"Odylic" means life force. Odylic Media works with small businesses that "have some sort of ethical aspect, whether it's environmental sustainability or ethically sourced diamonds or they help in their community," he said.
Quadrel's clients offer their products directly to the public, online. "We give each brand a presence and a personality on TikTok, Instagram, and Facebook," he said. "We work with people in France who sell handbags. We work with a brand in the UK that sells human dog beds [human-sized beds that look like dog beds]. We work with a jewelry brand in LA."
Quadrel works for a fee. If his clients make a profit with their Odylic advertising, he takes a percentage. If they don't, he doesn't.
The USF Effect
At USF, Quadrel majored in finance and served as chief marketing officer of the entrepreneurial club. His advice to students who want to be entrepreneurs? Pay attention in school.
"Statistics was a really important class that I use all the time," he said. "In my capstone marketing class I learned how to build a business from A to Z. Professor John O'Meara helped me understand marketing principles and nurture my interests. Professor Joel Oberstone helped me understand data analytics, how to chart and graph statistics."
You also need soft skills to lead a company, Quadrel said. "Most people don't know that ethics and philosophy classes are important if you're a business major, but those values determine how you work with your team and give you the fundamentals that if you don't have, everything breaks."
Next Step: The World
Although Quadrel grew up in Colorado and now lives in San Francisco, he's open to stretching Odylic Media around the globe.
"We work with a brand in France and I don't speak French, but going to USF, I've been exposed to so much diversity and people coming from different backgrounds — it makes it a lot easier when you're working abroad," he said.
"We have employees and partners and clients from Milwaukee, Thailand, Dubai, all over the world, so a big value for us is inclusivity because our team is crazy diverse," he added.
"We just want to help brands grow, especially smaller brands that have struggled to find an audience. If you're going to grow something, you might as well grow something good."