Giving
Supporting the Call to Serve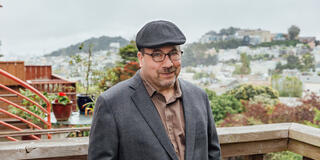 Craig Newmark, founder of Craigslist and Craig Newmark Philanthropies, discovered his passion for supporting veterans at an early age; his father, Lee Newmark, was a WWII veteran. Later, as a high school student, he grew a deeper emotional interest in supporting veterans when he witnessed them returning from the Vietnam War. At the time, he did not quite know how he felt about the war, but was certain he did not like the way he saw returning soldiers being treated. 
About ten years ago, Newmark attended an event hosted by PBS NewsHour where he met a volunteer from the Iraq and Afghanistan Veterans of America. He not only became involved with that organization but also with several others that support veterans and their families including Swords to Plowshares, Blue Star Families, and more.
"Veterans have given up a lot. They've sacrificed a lot in order to protect this country. I take it personally. That also includes their families," Newmark said. "I think as a country, the least we owe to veterans is benefits including medical coverage and education ... All I'm doing is putting my money where my mouth is. A nerd's gotta do what a nerd's gotta do."
Ready to Serve Again
In 2018, Newmark gave $200,000 to create the Craig Newmark Fellowship for Veterans' Civic Leadership which helped launch the Master of Arts in Public Leadership (MAPL) program at USF. He has also previously given to support other initiatives at USF including Women in Tech. 
The MAPL program is open to anyone but is specifically designed for veterans and their families who wish to pursue a career in public service or elective office. The program is a partnership between USF and Veterans Campaign, a nonpartisan organization that trains veteran leaders from both sides of the aisle. The hybrid curriculum combines online learning with five intensive weekend seminars to provide students with the skills they need to succeed in public office, legislative affairs, campaign management, advocacy, and civic leadership.
"Veterans are often ready to serve again. That means public service in different forms," Newmark said. "Veterans have a great deal to offer; they are committed, smart, and able to handle difficult situations."
Since its launch, the MAPL program has recruited students from all five military branches and both sides of the political aisle, including some who are already running for office in various capacities within their communities. 
"We are focused on continuously finding the right mix of folks, regardless of political affiliation, who are driven and have great character, who have leadership skills, who want to keep serving, and have demonstrated a commitment to public service," said Seth Lynn, administrative director of the MAPL program. "I think very few disagree with the notion that we could do better if we had more selfless, strong leaders who put the country before themselves."
Intersection of Values
Although Newmark has a Jewish background, his personal philosophy has strong ties with Jesuit Catholic core values — such as living an ethical life and supporting the common good.
"USF itself regularly performs community and public service — that's the right thing for a school to do where it's located and USF is serious about it," Newmark said. "USF has a lot of opportunities to stand up for change as it's happening."
Newmark believes the university's Jesuit values, positive track record training people for public service, and support of veterans was the perfect combination for the MAPL program and will be a winning combination to continue the program's success.
"In an unexpected way, there is a lot of crossover with military and Jesuit values. For instance, the notion of fairness and public service and looking after folks who really need help. This gift is a vote of confidence in the program," said Lynn. "With this program, we're saying to vets: 'We want you to keep serving and we're investing in your continued leadership development.'" 
To learn more about supporting the Masters in Public Leadership program, contact Lindsey McClenahan, Senior Director of Development, College of Arts and Sciences, at (415) 422-5105 or lmcclenahan@usfca.edu. 
This gift was made in support of Changing the World from Here: Campaign for the University of San Francisco.