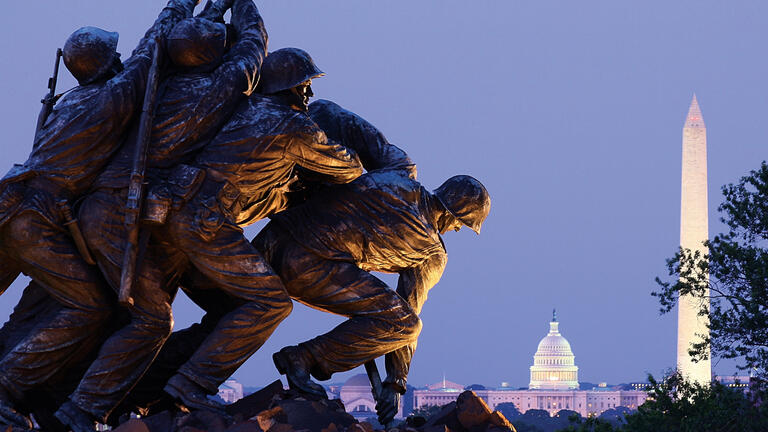 Public Leadership, MA
You served your country honorably. Now it's time to lead it.
Designed specifically for veterans and military families — but open to anyone interested in public service — the Master of Arts in Public Leadership is a 32-credit program designed to provide students the skills to succeed in public office, congressional affairs, campaign management, advocacy, and civic leadership. The hybrid curriculum combines online learning with five intensive weekend seminars.
Applications are open on a rolling basis.
I've seen firsthand the selflessness, dedication, and leadership that veterans bring to the table — it's exactly what our country craves and what's too often missing in Washington. That's why I'm so excited to be part of a program that will help veterans translate their values and skills into successful political public service."
HON. PATRICK J. MURPHY First Iraq Veteran Elected to Congress, Former Acting Secretary of the Army, and Adjunct Professor
A Curriculum Based on Learning Outcomes
The Master in Public Leadership program is the result of a partnership between the University of San Francisco and Veterans Campaign, a nonpartisan organization with a reputation for successfully training veteran leaders from both sides of the aisle. They've spoken with hundreds of veteran candidates about what they wish they had known before they began their campaigns. The answers have helped us design a curriculum specifically tailored to student veterans, focused on the learning outcomes that will benefit them the most. Students will learn skills necessary to succeed not only as elected officials, but also in a variety of professional settings outside of politics and in their individual commitments to civic service.
A Schedule Designed for Working Professionals
The program will run on a three-semester schedule, including two eight-week online sessions during the fall and spring, and a twelve-week online session during the summer. Students also attend five intensive in-person workshops at the beginning of the online sessions. Students can complete the degree in either one year (accelerated track) or two years (full time), and have the option of enrolling in the fall or spring.
Meet the Faculty
Faculty from the public leadership program are a diverse mix of traditional scholars and top practitioners offering essential experience and theoretical knowledge.
Generous Financial Aid
We are committed to helping our alumni begin their public leadership careers with minimal student debt. Qualified veterans can receive full tuition reimbursement through a combination of G.I. Bill and Yellow Ribbon Program funding.*
---
* Based on current Post-9/11 (Ch. 33), Yellow Ribbon Program, and USF Tuition levels, which are subject to change.
January 18, 2024 5:30PM - 7:00PM
McLaren Complex Complex
Seth Lynn, Administrative Director
1608 Rhode Island Avenue NW
Washington, DC 20036