Engaged Learning
Biotech Internships Boast High Job Placement
The Professional Science Master's (PSM) in Biotechnology partners with many companies in the Bay Area to help students develop the skills they need to thrive after graduation. One of those companies is Distributed Bio.
Distributed Bio develops technologies that mine the human immune system in order to engineer new drugs to fight illness and disease. Many pharmaceutical companies use its technologies, which means USF students who intern with the company have the opportunity to learn cutting-edge techniques.
The company's partnership with the USF's Biotechnology program began in 2014 when Jake Glanville, founder and CSO, decided to sponsor an internship program for students. The partnership quickly proved mutually beneficial. As Glanville said:
"It's given us access to an amazing talent pool. As a small company, it extended what we are able to work on tremendously and even gave us the ability to support some experiments at USF."
The collaboration has also supported the Biotechnology program's focus on job training and placement, as interns get the opportunity to run real experiments. Professor Cary Lai said:

One of the best ways to prepare students for jobs in biotechnology is to have them intern or work on collaborative projects with companies like Distributed Bio.
He added, "Through such experiences, the students improve their biotechnology skill sets, enhance their professional resumes, and gain direct connections with industry contacts."
Interns make an impact
Since their partnership began, Distributed Bio has worked with more than 20 USF students on research and computational projects. Many interns have helped the company create one of its core products: the SuperHuman antibody discovery library, a pool of more than 10 billion human antibodies that engineers can screen to develop new therapeutics.
Another big project interns have worked on is the epitope focusing technology, an immunization technology that Distributed Bio hopes will one day form the basis for a universal vaccine. The project has been particularly popular among interns because it involves trips to the company's animal facility in Guatemala.
"I think the students like interning with us because they get experience with a lot of new cutting edge technologies and get to try many parts of a project," Glanville said. "I place a lot of responsibility on them with complicated projects, and they deliver."
For many interns, the opportunity to prove themselves at a leading biotech company has helped them land fulltime jobs, including at Distributed Bio. Casey Keyes '15, for example, played a leading role on developing the antibody discovery library during her internship and Glanville subsequently hired her as an Antibody Library Engineer.
"The program's mandatory internship requirement is critical in furnishing students with the skills they need to find employment in the biotech industry," she said. "The program's relationship with Distributed Bio is the basis for my current employment."
Sarah Ives '15, who Glanville hired as a Bioengineer following her work on the epitope focusing technology, added:
The internship is incredibly helpful for beginning a career in the biotech industry, whether in a wet lab, computer science, or business setting. Our first and second jobs in the industry set the tone for our career development.
Glanville also hired Dave Maurer '15 and Devanshi Shanghavi '16, both of whom contributed to the epitope focusing technology. Glanville said the four USF alumni he hired are particularly gifted in the traits required for Distributed Bio's projects.
"No interview could compare with being able to work with someone for months. We haven't made a single hiring stumble since working with USF," Glanville said. "We are deeply appreciative to the USF program and the embedded training strategy it's built on."
Finding the right career path
Although not every student who interns at Distributed Bio can expect to find a fulltime position there, the internship often leads them to jobs elsewhere. Impressed with the pool of candidates he gets each semester, Glanville has been happy to help connect interns with his contacts at biotech companies around the Bay Area.
"At one point, other companies started asking where we were getting these amazing students from," he said. "I have become popular with my pharma and biotech friends for being able to refer them to the USF internship program."
With the help of Professors Lai and Christina Tzagarakis-Foster, Glanville helped facilitate a speed-networking event for students to meet with startups, which led to a slew of diverse internship placements.
Ultimately, the program's partnership with Distributed Bio has not only provided students with skills that help them land jobs, it has also facilitated relationships with more biotech companies in the Bay, and subsequently, more internship opportunities. With more internships to choose from, students have a clearer picture of the full range of careers available in biotechnology, and can land the internship that will best advance their career goals.
As USF alumni and Distributed Bio employee Maurer said:
"I have colleagues in my cohort who have found incredible opportunities in typical post-Masters scientific areas such as molecular biology and fermentation bench work. Others have found interesting opportunities away from the bench, involving business development, bioinformatics, and governmental services. The internship program is vital not only for opening career doors, but also for defining optimal roles for each individual student."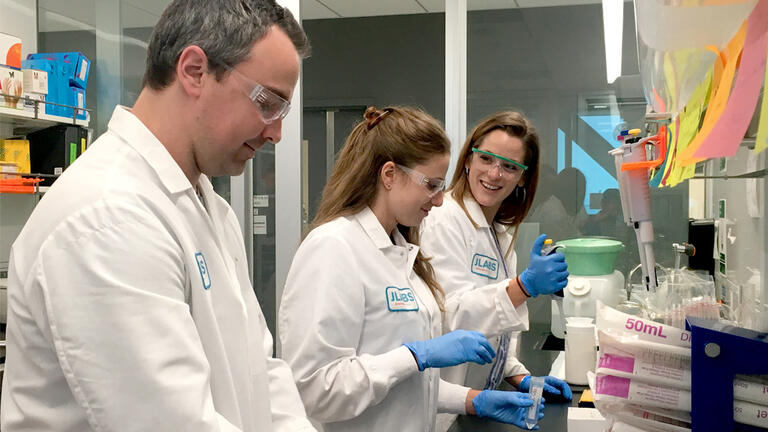 USF alumni Dave Maurer PSM '15, Sarah Ives PSM '15, and Casey Keyes PSM '15 launched their careers at Distributed Bio following internships in the Biotechnology program.