Alumni
26th Annual USF Thanksgiving Food Drive Receives Outpour of Support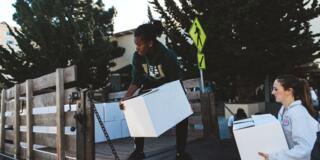 The USF Thanksgiving Food Drive committee set out to provide 300 meals to families in the Western Addition experiencing financial hardship. The community responded with an outpour of support, raising over $10,450 and vastly exceeding the original goal. 
The Thanksgiving Food Drive was set in motion by the university's original Alumni Board of Governors and the tradition has held strong for the past 26 years. Since then, the initiative has grown into a collaborative effort between alumni, faculty, staff, students, and community partners. 
In 2020, as the world navigated obstacles brought on by the pandemic, alumni and volunteers rallied together to carry on the beloved Thanksgiving tradition. This year, with the help of donations from across the USF community, the university partnered with Groceries for Seniors and Lucky's Supermarket again. 
"We have some very generous members in our community, and the money will be put to good use feeding needy seniors in our community," said David Philpot '93, a member of the Thanksgiving Food Drive committee.  
These donations will ensure that many families in San Francisco will have a chance to celebrate the holiday season with a warm meal this Thanksgiving and beyond. 
Each year, USF continues to prove that generosity is alive and well in the hearts of our community. These successes are firm reminders of USF's strength, resilience, and power to Change the World From Here. 
To support the university community in its mission towards global change, consider making a gift in support of Changing the World From Here: Campaign for the University of San Francisco.