Giving
$8 Million Gift from Remarkable Alumna Supports Student Scholarships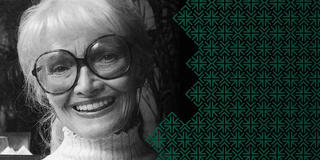 The University of San Francisco has received an $8 million estate gift from Dolores M. Staudenraus '54. A celebrated battlefield nurse and public health director, she retained a lasting connection to the university that prepared her to care for critically injured soldiers during the Vietnam War.
Ms. Staudenraus, who died at her San Francisco home in January, entrusted her estate to USF to benefit future generations. USF President Paul J. Fitzgerald, S.J., said her gift will be designated for scholarships, with a preference for students from Stockton and the Central Valley area where she was raised.
"We are deeply honored and grateful to Dolores for her faith in USF and her generosity," said Fr. Fitzgerald. "Throughout her life, she demonstrated repeatedly what it means to give, to care for others, and to live with passion, conviction, and values. Her legacy gift will provide generations of students with access to the Jesuit education she treasured."
Born in North Dakota, Dolores grew up in Stockton and received her undergraduate degree in nursing from USF in 1954. She later earned a master's degree in public health at UC Berkeley. During the Vietnam War, she served as a battlefield nurse in the largest combat hospital in Da Nang, treating those wounded during the siege of Khe Sanh and rising rapidly through the ranks.
She also served as a recruiting officer for the U.S. Navy nurse corps, travelling extensively. During her time in the service, she began investing in real estate, a passion that continued throughout her life. She retired from the Navy after attaining the rank of captain and returned to Northern California, where she worked as a director for the U.S. Public Health Service.
Remembered by others as fiercely independent and loyal, she for years kept two toy poodles named Fannie May and Freddie Mac and had an interest in Asian art. Over the years, her real estate investments grew to include multi-unit commercial properties and friends say she was a meticulous, hands-on landlord who would climb a roof to check for leaks.
She maintained her connection to USF and joined the John Lo Schiavo Legacy Society. The Society honors those who have included the university in their estate plans and carries on Father Lo's devotion to the expression of Jesuit values through education.
"I really did receive a quality education at USF," she told the university years ago in a testimonial about her philanthropic support. "My nursing degree prepared me well for a career that included teaching, consulting, and care of the critically injured in Vietnam."
With her gift, she hoped to provide future students with the kind of educational experience she enjoyed.
This gift was made in support of Changing the World from Here: Campaign for the University of San Francisco.