Global Perspective
The View from USF
Hong Kong, China and the New Global Economy
China Business Studies Initiative Hosts Hong Kong Commissioner
Anyone who's seen its looming skyscrapers and bustling markets will tell you that Hong Kong is like no other place on Earth. One of the world's most densely populated cities, the former British colony is now an autonomous territory and a special administrative region of China. It's also held up as a paragon of economic freedom—and eyed from all directions as a nexus of the changing global economy.
On Monday, February 22, the USF China Business Studies Initiative (CBSI) hosted a talk by the Honorable Clement Leung, Commissioner of Hong Kong to the United States, to discuss Hong Kong's unique economic position and its implications for international business. Leung oversees the three Hong Kong Economic and Trade Offices that are located in Washington D.C., New York and San Francisco. He also leads the Hong Kong government's efforts by promoting U.S.-Hong Kong economic and trade ties.
The US China Business Studies Initiative (CBSI) has been a front-runner in hosting significant events tracking China's business evolution, and Leung shared with audience members all of the advantages, strengths and challenges that are unique to Hong Kong.
"No country is more important to the United States these days in terms of trade and politics than China is. This university is very engaged with China and other countries in the Pacific Rim, so building a relationship between the two countries and building relationships between business institutions and educational institutions in Hong Kong and other cities in China are very important and very strategic," said USF's Provost and Vice President of Academic Affairs, Donald E. Heller.
Because Hong Kong is considered the place where China and global advantages converge, Leung says, people refer to it as "one country, two systems," which according to him can be both a challenge and an advantage.
"Hong Kong acts completely different than China as a whole--that is why it's called one country, two systems," said Leung.
According to Leung, Hong Kong is an ideal place for innovation and startups because there is easy funding access from investment angels. In that sense, the SF Bay Area is similar to Hong Kong.
"Hong Kong and the SF Bay Area have some key similarities. Innovation, resilience and social justice. Which is very compatible with USF," said Xiaohua Yang, USF professor and director of the CBSI.
CBSI events such as this one, as well as the forum on Chinese venture investing in the U.S. that was held on February 20, are a great opportunity for students who are interested in working within this region. Check out the CBSI page for more events and opportunities alike.
By Brandi Licciardo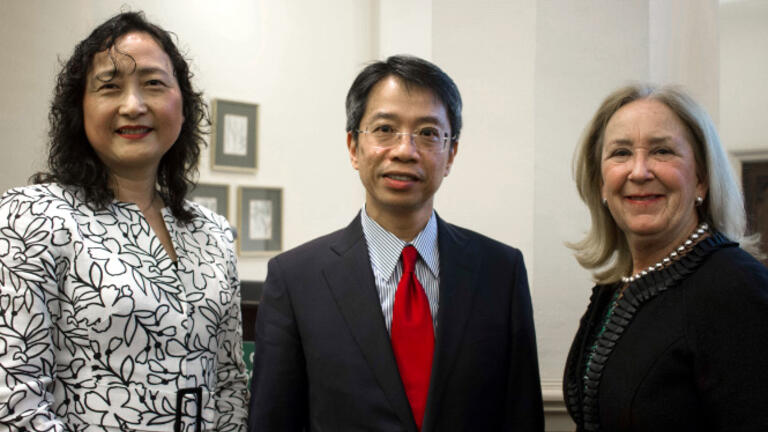 The USF China Business Studies Initiative CBSI hosted a talk by the Honorable Clement Leung, pictured center