Campus Life
23rd Annual Hospitality Symposium Highlights Cutting-Edge Topics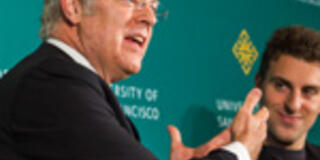 The 23rd annual Hospitality Management Symposium, held on Wednesday April 24th, focused on cutting-edge topics like collaborative consumption, obesity and sustainable seafood. The prestigious event is organized yearly by the Department of Hospitality Management, of USF's School of Management, and aims to get both students and hospitality industry leaders to dialogue about where the hospitality industry is going. "We want to push both our students and the industry itself to think about the future," said Administrative Director David Jones, who organized this year's symposium with the help of the student event management team from the Corporate Events Project Management course. The conversation about current issues surrounding hospitality was centered on the department's "Three Pillars of Excellence: Global Meetings & Events, Eco & Ethos, and Wellbeing & Quality of Life." The Dean of the School of Management, Michael J. Webber, said "USF is becoming one of the national and global leaders in Hospitality Management, because we combine academic rigor with practical relevance, as any good business school must."
The practical relevance for the hospitality industry was established during the symposium through discussing our social responsibilities. The focus of the morning panel session was on "The Way We Eat." Moderator Marc Halprin led five esteemed panelists from the food, health and hospitality sectors in a discussion. The panelists agreed that the hospitality industry had a responsibility to serve people healthy food, smaller portions, and sustainable seafood. "We need to work responsibly with local ecosystems and use small local fisheries," said Tom Worthington, the owner of the Monterey Fish Market. "We can't keep passing our problems on to the next generation. This is a really big problem, worldwide." Barbara Sattler, Professor at USF's School of Nursing and Health Professions, agreed with him. "The food industry needs to be engaged in policy making," she said, "we need to have policy discussion about healthy and sustainable food. The Bay Area cares about sustainability, but the rest of America largely doesn't." The panel discussed the hospitality industry's role in sustainable change, and said that current Hospitality Management students are the best ambassadors for these two efforts. "You'll be the generation to really bring this to the public," said Jean-Michel Offe, Vice President of Food and Beverage of Fairmont Hotels & Resorts. Jean-Marc Fullsack, the School of Management's Executive Chef Instructor, encouraged the hospitality industry to serve vegetables and seafood that is local and in-season. "It's cheaper," he said, "it's healthier, and it supports local farms and fisheries."
The afternoon speaker session focused on collaborative consumption, which TIME Magazine recently called one of the ten ideas that will change the world. Dr. Jones led a thought-provoking discussion on the rise of the "sharing economy" with two esteemed guest speakers: Rachel Botsman, a global thought leader on the power of collaboration and sharing through network technologies and author of the book What's Mine is Yours: How Collaborative Consumption is Changing the Way We Live, and Brian Chesky, co-founder of Airbnb, an online community marketplace for unique places to stay. Airbnb started as Brian Chesky and his two roommates renting out airbeds in their living room as an "airbed and breakfast" when San Francisco's hotels were fully booked for a conference. It has since grown into people in over 34,000 cities in 192 countries hosting travelers in their unique and sometimes extremely eccentric homes. "Collaborative consumption is reinventing the marketplace using an old idea," said Rachel Botsman. "People used to barter and trade within their villages. We are now moving old concepts of bartering, trading, sharing and collaborating into a modern environment, using technology."
"This is not an internet phenomenon," said Brian Chesky, "this is not a niche phenomenon. It is a global revolution." Both speakers were enthusiastic in emphasizing that collaborative consumption should not be perceived as a threat to the traditional hospitality industry, stressing that it is an opportunity to innovate and to bring the "humanness of industry back into the hospitality industry," said Botsman.
"We are redefining consumerism to include sharing," said Chesky. "For us to 'win,' nobody has to lose. Hotels are becoming much more local, personal and individualized." Both speakers agreed that collaborative consumption was expanding the hospitality marketplace to include people who otherwise would never have joined. "This is an opportunity to look at the entire hospitality ecosystem," said Botsman. "Hotels can use collaborative consumption to be informed about all the services and recommendations they can offer guests, and can really branch out."
Post-event Dr. Jones says the most important thing is to keep the conversation going, keeping the students and industry executives involved in the topics discussed and the discussions warm until next year's symposium. "If the students and industry leaders only think about these topics for the duration of the symposium itself, then it was a waste of time," says Dr. Jones. "We need to carry these messages beyond the symposium, well into the future." Using the hashtag #3pillarsofexcellence on Twitter and the Department of Hospitality Management's LinkedIn group Dr. Jones is continuing the dialogue that he started on April 24th. Please join in!