Lead Photo: USF Hall of Famer Gino Marchetti '52, the son of Italian immigrants and a member of the celebrated "undefeated, untied, and uninvited" '51 Dons football team, died at 93 in April.
1950's
'53
Andrew P. Reshke, a prostate cancer survivor, became a member of the board of directors of the California Prostate Cancer Coalition, the committee instrumental in saving a state program that appropriated funds for treating men who did not have medical insurance or other means to pay. Currently, he is coordinating an effort to broaden the educational outreach of his local support group: UC Davis Comprehensive Cancer Center/Dignity Health Center Institute Support Group in the Sacramento area.
'57
Vincent Vargas is happily retired since 2000 and is enjoying family, travel, golf, and hobbies. He cherishes meeting his 1957 classmates twice a year, with social hour and lunch at Marin Joe's.
'59
Edward Chow, M.D., was appointed to his eighth term on the San Francisco Health Commission last January and is serving as its president. He is also chair of the Zuckerberg San Francisco General Hospital's joint conference committee.
1960's
'62
William Gallagher was inducted into the Marin Athletic Foundation Hall of Fame. In 1956, he became the second sophomore in the history of USF to join the school basketball team. He was also one of the leading hitters of the 1957 and 1958 school baseball teams.
'65
Kathleen Farrell celebrated her lasting bond with 25 fellow USF nursing alumni in Napa, California, last October.
Charlotte Brandt was inducted into the CSU Bakersfield Alumni Hall of Fame for leadership, philanthropy, and community activity.
'66
Russ Martin is the founder of the Community for Khmer Villages and lives in a remote hamlet in Southeast Asia. He has two publications that focus on seeking balance and harmony and how to find gateways to happiness.
'68
Bowman Olds MA '74 serves as chair for Prince William County's local emergency planning committee and is with the District of Columbia's Department of Health. He is also the sector chief of InfraGard in the National Capital Region where he serves the public-private partnership between U.S. businesses and the Federal Bureau of Investigation.
Therese Terschuren Education Credential '69 is teaching at Metropolitan Community College in Omaha, Nebraska, after retiring in 2016 from a 46-year career in teaching. She spent the first 20 years at Presentation High School in San Francisco and then became the Latin teacher at Millard West High School in Omaha.
'69
Louis Labat has been named a member of the board of directors of the East Bay Foundation on Aging, serving nonprofits in the Oakland area.
Dick Spotswood JD '73 retired after practicing law for 45 years. These days, he writes a politics column for the Marin Independent Journal twice a week, moderates the publication's television program, and admires his two new grandchildren.
Maria van Houten retired from nursing in August 2013. She worked as a pediatric diabetes educator nurse since 1992. She has two children and four grandchildren and would love to hear from her nursing classmates.
1970's
'70
Alexander Peer is a Jungian psychoanalyst in San Francisco. He has a wildlife refuge for migratory waterfowl in Nevada and a center for creative solitude in Truchas, New Mexico. The retreat space is available for free for creative work.
'71
Russ Bertetta Education Credential '72 is enjoying retirement and working for the San Francisco Giants as a tour guide at Oracle Park. Bertetta was named the Tour Guide of the Year for 2018.
Philip Carter JD '75 has lived in Manhattan since he finished law school, always vacationing in Vermont. Finally, he moved to Vermont with his wife and two teenage daughters. The girls are doing great in high school, while he and his architect wife are upgrading a motel they recently purchased.
Mark Lyon finished touring around the U.S. and Canada, performing his one-man play, 'Tween Earth and Sky: Irish Tales of the Supernatural.
'73
Donald Williams Education Credential '74 was elected to the Calistoga City Council in Napa County last November.He retired from his flooring business in 2014.
'74
Rev. Debra Low-Skinner was made vicar of Christ Episcopal Church Sei Ko Kai in San Francisco in May 2018. She is serving as a member of the executive committee and chair of the Asian commission of the Diocese of California.
Christine Reitman, BSN '82 retired in July 2018 from Columbia Presbyterian Hospital, where she was employed for the past 20 years. After completing a nursing degree at USF, she went on to earn a master's degree from City University of New York in adult health nursing in 2002.
Image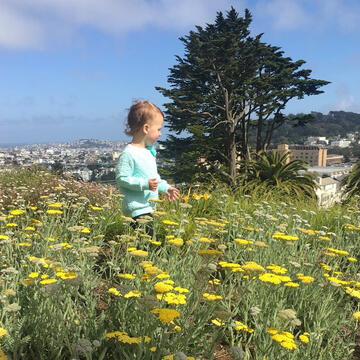 @lauratellsjokes: I took my daughter up to Lone Mountain to smell the flowers and see the city. Future class of '37. #USFCAalumni
LAURA NELSON '08 #USFCAALUMNI
'75
Angela Brown has retired after working for the San Francisco district attorney's office for 34 years.
'76
Geraldine Burke is a nurse surveyor with the state of California.
'79
Colleen Carette graduated in May 2019 with a master's degree in mental health counseling at the age of 62. She lives on a small island off the coast of Seattle and commutes to work every day by ferry. She is a physician assistant at University of Puget Sound, a small liberal arts college. She has been married to wife, Sue, for 28 years and volunteers with many organizations.
Jessie MacLeod's book, Canary in the Courtroom, is still available 12 years after publication. The story exposes legal loopholes that allow toxic ingredients in commonly used products and discloses the weakness in federal laws and regulations.
1980's
'80
Royce Chrys is a senior partner in the 14th largest private diagnostic radiology group in the United States. He specializes in cross-sectional body imaging and women's imaging and practices in multiple Bay Area hospitals.
'83
Herman Petzold spends most of his time traveling, hunting, fishing, golfing, and reading since his retirement in 2009. Since USF, he has earned an MBA, a JD, and two LLM degrees. His son played baseball at, and graduated from, the University of Notre Dame.
Chuck Thompson has been a lawyer for 30 years and married to his wife for 20 years. He recently joined the legal firm Greenberg Traurig. His free time is spent splitting his time with his three children Aidan, Spencer, and Hailey, all of whom are sailors who compete nationally.
Image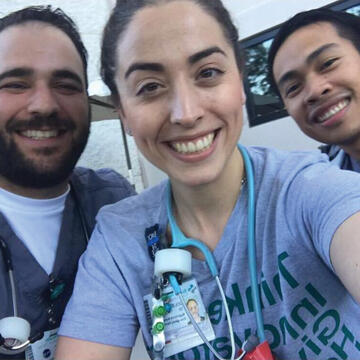 @jolie_warford: My USF Squad. Who knew we would work together? #USFCAalumni
JOLIE WARFORD '14 #USFCAALUMNI
'86
Ibrahim Ayat is a software executive celebrating the 10-year anniversary of founding Soft Sales Cure, a sales management firm focused exclusively on helping software companies increase sales and achieve consistent growth and profits.
Nancy Sheftel-Gomes retired from her 20-year position as education director at Congregation Sherith Israel and has enrolled in USF School of Education for a master's degree in human rights education.
'87 Stanley Bransgrove JD '90 is happy to start a legacy. "My daughter is an incoming freshman. I received my BA from USF, as well as my JD. I couldn't be happier that my daughter chose USF."
Michael Paluzzi started a craft distillery that opened its doors to the public in July 2017. Now, it is shipping products to Illinois, West Virginia, Virginia, Pennsylvania, Washington, D.C., and Maryland.
'88
J. McNiel is lead artist and teaching artist at the William James Association in Santa Cruz. The nonprofit provides hands-on workshops and hires artists to bring the healing power of the arts to incarcerated men and women.
Kenneth Smith led a nationwide effort to reduce a major cyber security threat at U.S. airports, working directly with TSA.
Teresa Stanley is an administrative law judge at the California Office of Tax Appeals.
'89
Mattia J. Gilmartin MSN and MBA '93 was inducted as a fellow of the American Academy of Nursing in November 2018.
1990's
'91
Joanne Logan is happily retired in Oceanside, California after a career in human resources.
'92
Lisa Beutler has been elected 2019 president of the American Water Resources Association.
'93
Deanna Tryon, Silicon Valley chief of protocol, spoke at the United Nations in New York supporting the passage of a resolution declaring Jan. 24 as the annual International Day of Education. The resolution passed unanimously.
'94
Jules Walters was elected city councilor of West Linn, Oregon. She is a proud mother of four children and is married to Joseph Walters '94.
'95
Kent Bennett has been promoted to a supervising children's social worker in Los Angeles County, where he celebrated his 20th year.
Ricardo Peralta started a patient education blog, OpticalJedi.com, to provide information on frame and lens technologies designed to enhance vision. He has been working in the optical industry for 28 years.
'97
Jose Jasso was promoted to assistant city manager of Rio Vista, California. He previously held the city clerk position.
Brian Keeney MA '12 completed his preliminary administrative services credential coursework and hopes to find an administrative position this summer.
Pavna Sloan will be returning to USF for the Executive Leadership Doctor of Nursing Practice (EL-DNP) program. She works at Kaiser Permanente Medical Center in Walnut Creek, California. She married Bart Sloan at St. Ignatius Church in 1998, and they celebrated their 20-year anniversary last year. While her son is a freshman at Gonzaga University, her daughter is following her footsteps in nursing and will be attending University of Portland.
'99
Matthew Goudeau was appointed director of grants for the arts for the City and County of San Francisco. In this capacity, he will promote and support arts in the city.
2000's
'00
Jordana De Leon is the interim coordinator for the federal government's international HIV/AIDS initiative at the U.S. Embassy in Phnom Penh, Cambodia.
XuanThu Pham is the head of product marketing management at the Federal Reserve Bank of San Francisco. She previously worked with software enterprise startups and as head of marketing at Stanford University.
Christina Yuni is the senior vice president and wealth management adviser at Merrill Lynch in Menlo Park. She was on Working Mother/SHOOK Research's "Top Wealth Adviser Moms" list for the second consecutive year.
'03
Ted Scott-Smith lives in San Francisco and has been a special education teacher for 11 years. He is also the father of five children, all grades K–5 at FSK Elementary in the Outer Sunset. His wife works for the SFUSD as well.
'05
Mary Dickow MPA '07 was named director of strategic initiatives for the Organization for Associate Degree Nursing last November. She was also elected president of the board of directors for the Chin Family Institute of Nursing in January. Dickow continues to serve as a project director for HealthImpact, California's nursing workforce center, and teaches part time in the University of California, San Francisco's master's program in health care administration and interprofessional leadership.
Alexis McCurn published her book The Grind: Black Women and Survival in the Inner City. It illustrates the lived experiences of poor African American women and the innovative strategies they develop to navigate daily life.
'07
Nicholas Blair married Kassandra Zuanich in Lima, Peru on Jan. 5, 2019. It was a beautiful wedding with friends and family who traveled from all over the world. He considers himself fortunate to have had an undergraduate experience at USF that broadened his horizons and made him open to different cultures.
Jennifer Moshman graduated from Oregon Health and Science University School of Medicine in May 2018 and started residency in internal medicine at the University of Nevada, Reno. She and her husband, Nathan, are expecting their first child.
'08
Elisabeth Bartlett's first feature documentary film, Light in the Water, premiered on Logo TV last summer. The documentary chronicles the 35-year history of West Hollywood Aquatics, the first openly gay masters swim team. The story gave Bartlett, a lifelong swimmer, the opportunity to write her love letter to swimming.
Abigail Cosico has been working for 10 years as a registered nurse. It was challenging for her to attend nursing school as a DACA-eligible individual before DACA opportunities were available. "I had a big secret to carry around while facing the rigors of the nursing program. Luckily, classmates, professors, and counselors unconditionally extended support, hope, and kindness to me."
Meghann Hayes MAT '09 and friends Meg Trowbridge '07 and Kate Elston '09 started a podcast, Vicious Cycle, which demystifies and pokes fun at the subject of menstruation. They have completed their first season and will start the second season soon.
Julianne "Jules" Henderson MFA '18 returned to USF this spring to teach creative writing to undergraduates and is thrilled to share what she learned during her graduate studies with the next generation of aspiring writers.
'09
Rachel Perry was promoted to public relations events manager at Eagle Mountain Casino in Porterville, California. The casino is owned and operated by her tribe, the Tule River Indian tribe. Previously, she served as the public relations entertainment coordinator. Before joining Eagle Mountain Casino, she was a project manager and service coordinator for Cenegenics, a trade show company.
2010's
'10
Gabriela Hernandez completed a master's degree in logistics and supply chain management with distinction at Embry-Riddle Aeronautical University in May 2018. The ceremony took place on the USS Midway in San Diego.
Nes Martin Morales graduated from the Ostrow School of Dentistry at University of Southern California with a DDS last year and is now a dentist in Daly City.
'11
Elle Robinson MNA '14 joined the capital campaign council for Cancer Support Community, San Francisco Bay Area. In this volunteer role, Robinson assists the nonprofit in raising funds to build a new home on a beautiful six-acre property in Lafayette, California. She encourages anyone impacted by cancer to look into the free support services available to cancer patients and their families.
Erin (Hollenbeck) Trinidad married Michael Trinidad in Huntington Beach, California, last October. They met in 2012 at Children's Hospital, Los Angeles, as licensed registered nurses, and they continue to work alongside each other.
'13
Clément Bauer got married to the man of his dreams on National Coming Out Day, Oct. 11, in San Francisco.
Mira Collamore is pursuing a bachelor's degree in communication sciences and disorders at Emerson College. She hopes to become a speech language pathologist assistant. She is proud to be a Don!
Cass Krughoff is a management consultant at Booz Allen Hamilton and has been working there for three years. She helped found International Affairs Review, the journal of USF's international studies department.
Jorge Martinez published his first children's book, Jazzland!, an illustrated story that follows Truxton, an English bull terrier, through the city. Martinez both wrote and illustrated his book.
Alex Spaete and Kelcy (Evans) Spaete '13 were married in Napa, California.
Image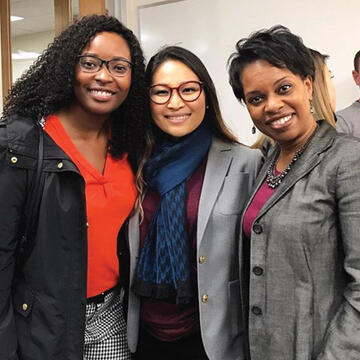 @girlventurous: Who knew I would find two of my best friends here! I was meant to be a Don! With 3 months till graduation, I must say this has been an exhilarating journey with lots of challenges, accomplishments and a whole lot of love and support from these two ladies and many others. #USFCAalumni
MONICA LADA '19 #USFCAALUMNI
'14
Germain Bahri has left UBS to lead the international expansion of Fidor Bank, which is the first and leading digital bank in Europe.
Alicia Jackson lives in Dallas, Texas, is married, and plans to start law school this fall. She is forever grateful for her experience at USF, which has shaped her into the person she is.
Breniel Lemley is a PhD student at Northwestern University, where she works in the Center on Media and Human Development conducting children's media research. She worked as an education research associate at SRI International after graduating from USF.
'15
Alina Akram made a career change after exploring advertising. She is currently in the Hackbright Academy's full-time software engineering fellowship program.
Andrew Antes started his journey toward an MD this past fall at the Tulane University School of Medicine in New Orleans.
'16
Dalal Aldilaimi worked for Bookr.co, a cloud-based app for booking appointments with beauty professionals that has more than 100,000 active users in Kuwait, Bahrain, and Saudi Arabia.
Erin Rosenberg completed a master's degree in psychology from Boston University.
'18
Meerim Almazbek is a project manager for Suvoda in Portland, Oregon, where she is working on interactive response technology. She is studying for the GRE and plans to earn a master's degree in public health.
Alexandra Kennedy is a program coordinator for Rebuilding Together Peninsula.
1950's
'59
James Ward JD, retired justice, California Court of Appeal, has been featured in the book Justice in Plain Sight: How a Small-Town Newspaper & Its Unlikely Lawyer Opened America's Courtrooms by Dan Bernstein. The book tells the story of two cases Ward won before the U.S. Supreme Court.
1960's
'65
Luigi Fabiano MA Education Credential '80 MA '90 retired from his position as a counselor at Ursuline High School in 2011. He has been volunteering at Santa Rosa Junior College since 1997, tutoring English language learners.
'66
Joseph Paul Orth MA received two awards from Marin County and California Teachers Association/National Education Association at the age of 87 for teaching about 8,000 students (K–12) in California in a career spanning 60 years.
1970's
'76
Robert Giffin JD and LLM '80 is pleased to announce his retirement from the practice of law, but not from life.
Peter Logan JD is semiretired but enjoys keeping his hand in the world of legal practice. He is in touch with some of his classmates and has been a judge for USF Moot Court. He serves on the board of the SF Shakespeare Festival, is active in Rotary, and plays drums in two bands (blues and rock). One band includes Paul Gordon JD '75.
1980's
'83
Michael Dilmagani MBA '84 is senior vice president of the gaming hardware company Razer Inc. He has been with the company since 2005. He and his wife, Shokufeh Parsa MBA '82 have two grandchildren whom they love very much.
'84
Lindi Baker JD retired last December after serving as presiding judge of Oregon's 14th Judicial District since 2005 and as a circuit court judge since 2002. As a senior judge, she will continue to serve the citizens of Oregon by hearing a limited number of cases.
Fred Campbell-Craven JD retired in November after 23 years as deputy chief counsel with the California Franchise Tax Board.
Robert La Mont JD has taken on a leadership role with the USAID project Promoting the Rule of Law in Myanmar and moved to Yangon last October. The program addresses human rights and works with the courts, prosecutors, and civil society organizations.
'86
Carol M. Langford JD is pleased to announce the graduation of her son, Gregory Langford '14, JD' 18, from USF School of Law. After 32 years of practice, she considers her law degree from USF to be the best investment she ever made. She recently completed work for California's commission for revision of the rules of professional conduct and is an adjunct professor in USF law school.
'87
James Butler JD is celebrating 10 years of partnership at Butler Viadro, LLP. He also had a poetry book, Infinite Refrains, published in November.
Rosemarie Klustner MPA has been appointed as a small claims hearing officer for Maricopa County courts in Arizona.
Kenneth Winans MBA, an author, has seen his four investment history books win 33 honors in international competitions.
'89
Wayne Madden MA enjoys retirement by volunteering at a local school several days a week. He also teaches Sunday school at St. Patrick's Anglican Church in Edmonton, Alberta. He is planning a trip to Yukon Territory and Alaska in June.
1990's
Image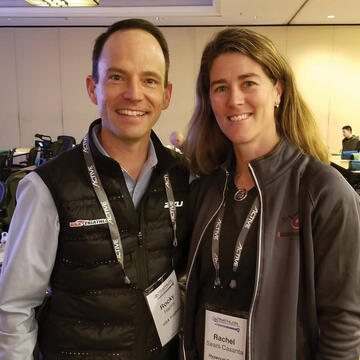 @rachelsearscasanta: With CEO of @usatriathlon, Rocky Harris, who's giving the State of the State: USA Triathlon. Fun fact: Rocky and I are both University of San Francisco Sport Management alumni. Go Dons! #USFCAalumni
RACHEL SEARS CASANTA MA '09 #USFCAALUMNI
'90
Michael Clement MBA published Khrysos, a science fiction novel dealing with the question of whether artificial intelligence can save humanity.
Craig Livingston JD has been elected to a two-year term on the board of directors of the Product Liability Advisory Council, a Reston, Virginia-based nonprofit of product manufacturers, suppliers, retailers, and other professionals who work to shape law surrounding product liability and complex regulation.
'91
Spencer Bolgard MBA in January became president and chief operating officer of MaxLite, West Caldwell, New Jersey, a leading manufacturer of LED lighting.
Donna DiGiuseppe JD has published a novel titled Lady in Ermine: The Story of a Woman Who Painted the Renaissance.
Aristides Gonzalez EdD finished a screenplay, 5-Sided Windmill, about a young Latino army officer who sues the army for discriminating against him. The screenplay has already found a producer.
Xin Guo MBA coauthored a book with Frank Gallo called Multinational Companies in China: Navigating the Eight Common Management Pitfalls, which is based on his 20 years of consulting experience in China. The book will be published by Emerald Group Publishing in Britain.
'92
Natalie Daprile JD is celebrating the 20th year of founding Daprile Bell Family Law Offices, a leading law firm in Silicon Valley. She became a certified family law specialist in 1997.
Jensen Shirley MSHRD is associate professional clinical counselor at Palomar Family Counseling Services.
'93
Rev. John McGarry MA became president of Jesuit High School in Sacramento, the school at which he had earlier served as associate principal and principal.
'94
Karen Benke MA published her fifth book, Rip ALL the Pages! in March with Shambhala Publications. Her creative writing business, The Writers Nest, is located at the converted Mill Valley Lumber Mill in Marin County, where she leads writing adventures for kids of all ages.
Jane Eyestone and her soon-to-be husband, Stephan Hookano '94, moved from Northern California to Minnesota.
Wendi Okun JD is now of counsel for the law firm Ragen Swan PLLC, after working as an in-house counsel for public technology companies (most recently with Microsoft for 13 years).
'95
John Omernik MBA MA '01, is president and founder of The Little Spanish-English School, which teaches English to the poorest residents of Tlatelolco, a working-class neighborhood of Mexico City.
'97
Barry Ahuruonye MPA is a management analyst for the U.S. Department of Housing and Urban Development in Washington, D.C.
Stefan Lawrence JD has been hired by the legal department of First Republic Bank in San Francisco to head up the deposits and bank operations section.
Kamili Moreland JD is the first African American woman to be appointed general counsel and corporate secretary of the automobile association AAA Northern California, Nevada, and Utah.
'98
H. Shaina Colover JD was appointed to the Superior Court of California by former Gov. Jerry Brown.
'99
Jennifer Duffy JD, partner and certified family law specialist with Fell, Marking, Abkin, Montgomery, Granet & Raney, LLP was named the Dream Foundation's Volunteer of the Year for 2018 for her work with the organization's Flower Empower program.
2000's
'00
Mary Anne Brady EdD is involved with USF through the Alumni Mentor Program. She is also a mentor with the San Francisco Public Library for its program Bridge at the Main. She is also an adjunct faculty member at Golden Gate University, Ageno School of Business.
'03
Mary Piasta JD is the first woman partner in Sonoma's oldest law practice, Haeuser, Valluzzo & Piasta, LLP.
'04
Todd Blahnik MA has been hired as the superintendent of Catholic schools in the Diocese of Green Bay, Wisconsin.
Derek Truesdale EdD is director of development for Time's Up Healthcare, a nonprofit organization partnering with Time's Up Now, an organization that increases women's safety, power, and equity at work. Besides being a development professional for more than 13 years, Truesdale has also headed a nonprofit, is a self-represented artist, and is husband to Michael Gisondi, who is a professor at Stanford University, and the proud father of 10-year-old Abigail.
'06
David Benoun JD was appointed city manager of Newark, California, after serving six years as the city attorney.
Hollis Pierce-Jenkins EdD joined Super Stars Literacy in Oakland in November 2017. The nonprofit provides literacy intervention during the regular school day, as well as literary support and social-emotional learning in the afterschool programs for six elementary schools.
'07
Jillian Bivert-Lontayao MA is expecting her second child in September. She works at Stanford University as an administrative assistant in the dean of students' office. She is also working at Encore Volleyball Club as director of operations and as a coach. She has been married for five years and has a 2-year-old, Justin Wayne Lontayao.
NeSha Thomas-Schadt MA was promoted from recreation supervisor to park and recreation manager in Pierce County, Washington, overseeing the west zone of the parks system, which includes the site of the 2015 U.S. Open, Chambers Bay Golf Course.
'09
Cameron Cloar-Zavaleta JD joined Alaska Airlines as director and senior attorney for litigation.
2010's
'10
Adrian Peterson MA EdD '16 is the principal at Saint Matthew Catholic School, San Mateo. Her graduate work prepared her to lead the school.
'12
Jennifer Schmid MSN is the chief nurse/clinical director for integrative health at the San Francisco Veterans Affairs Medical Center. She oversees program development, clinic operations, and implementing the center's Whole Health Model for more than 40,000 veterans in California. She is also the founder of Oasis Wellness, which focuses on educating consumers and providers about sustainable health care initiatives.
Sheree Bryant Sekou EdD published her book What a Difference a Change Makes! She is a motivational speaker, international facilitator, leadership coach, and owner of Sheree Sekou Consulting, a global learning and development firm.
'13
Andre DeVito MBA produces and hosts a show, Podcast by the Bay, which discusses issues affecting the San Francisco Bay Area and interviews local politicians, community members, and citizens.
Julinda LeDee MPA is an academic service analyst at San Jose City College.
Stephen Perdicaris MNA co-founded Music Mission San Francisco, an afterschool music program for underprivileged children at the Mission Cultural Center for Latino Arts. Since 2015, the program has grown to serve about 40 students on violin, cello, and choir. Students of the program have performed at concerts in the San Francisco Conservatory of Music for the past two years.
'14
Lucy Tseng MA is the founder of Resilientsee: Life Coaching for Athletes in Los Angeles. She is looking forward to working with athletic people to help build resilience and success in life outside of sports.
Image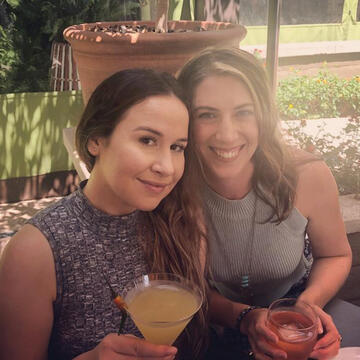 @mariaepoyer (pictured with Laura Zacharias '17, on the right): Girlfriends for life from another life. Moving across state lines doesn't change us.#USFCAalumni
MARIA POYER '15 #USFCAALUMNI
'15
Fernando Enciso-Márquez MPA is a Fulbright scholar of the U.S. State Department at Javeriana University in Cali, Colombia. He is conducting research on civic engagement initiatives as a strategy to contribute to the peace-building process in post-conflict Colombia.
WookSun "Phil" Hong JD received an award for outstanding services for a barrister from the Alameda County Bar Association. Hong became a new member of the Alameda County Bar Association LRS governing committee and is also a volunteer with Legal Access Alameda.
Mana Kheang MA is a Khmer instructor at the Cambodian Mutual Assistance Association in Lowell, Massachusetts. "A native of Cambodia, she grew up witnessing transformative changes in her country that fueled her passion for social justice, gender-inclusive development, and human rights," the CMAA said, announcing her position.
Tram Mendoza MSN DNP '19 thanks USF professors for being supportive not only academically but also with his personal life. Mendoza started the DNP-FNP program in 2016 and has juggled working full-time, planning a wedding, getting married, and welcoming his first child.
Curtis Peterson MSN is teaching at USF. "Glad to not only be an alumnus but also an adjunct professor at this fine institution!"
'16
Cheryl Ann Lee MPA is the director of development at the Fairfax Library Foundation. She and her husband, Andre Lee JD '11, bought their first home, in Washington, D.C.
Jennifer Winters MSN graduated from the University of California, San Francisco's Adult-Gerontology Acute Care Nurse Practitioner program.
'17
Mary Duncan MA has welcomed a baby (Rose) into her family and has been promoted to assistant principal at St. Francis Xavier Catholic School in South Kearns, Utah. She is expecting a sibling for Rose in summer 2019.
Elizabeth Najmabadi MPH joined the educational support services department of Sonoma County's Office of Education the same year she graduated from USF. She worked on adverse childhood experiences in her capstone project at USF and this job helps her make the case that health and education go hand in hand.
Sira Rathburn-Noah MS became director of people at Method Communications, a public relations firm, last July in San Francisco. After four months, she was promoted to vice president and is responsible for all facets of the employee experience across the organization, including learning and development, increasing diversity, and community outreach.
Romyn Sabatchi MA moved to Hawaii and started a new job in September at Chaminade University of Honolulu as an academic adviser for natural sciences and math students.
'18
Tim Betry MBA joined GoPro as senior director of people, responsible for leading global recruitment, organizational development, and HR business partner functions.
Cynthia Huff MSN was appointed national research chair of Infusion Nurses Society, in Norwood, Massachusetts for three years. She plans to create an evidence-based toolkit for infusion nursing practice that can be shared throughout the world and reach as many infusion nurses as possible to improve patient outcomes.
Margaret Murphy EdD is teaching students of Dominican University who will become teachers in the future.
Christopher Soriano-Palma MFA became fiction editor of Watermelanin, an online magazine, and writing instructor at Digital NEST, a nonprofit in Watsonville, California.
Emerald Templeton EdD accepted a faculty position in the department of educational administration at Michigan State University.
Breana Vargas MPH performed in the Portuguese Broadway (Carnaval) in Terceira, Azores, Portugal in March this year.