The Death of the Liberal Arts Has Been Greatly Exaggerated
Meet eight alumni who prove it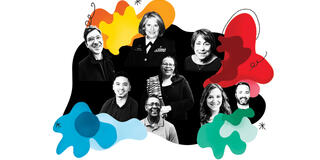 Here are some headlines on the state of the liberal arts — in ascending order of handwringing:
"How colleges are adapting to the decline in liberal arts majors"
"What is college good for? Absolutely nothing, say Republicans (and some Democrats)"
"The liberal arts may not survive the 21st century"
At USF, professors and administrators and students see an entirely different picture of the liberal arts, and the university's more than 100,000 alumni prove that a healthy dose of literature, history, philosophy, and ethics for all — including students in engineering, computer science, and biotech — can make you a better person, land you your dream job, and possibly even save democracy.
The Health Activist
Image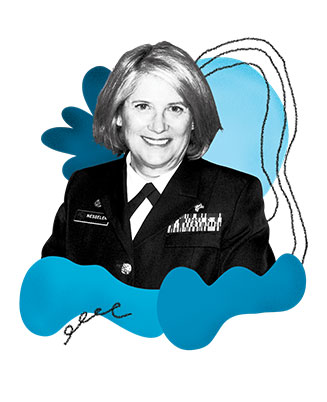 In 2018, Kerry Nesseler '78 organized an international conference to address the problem of maternal mortality: women dying while pregnant, or during pregnancy and childbirth. The U.S. has one of the worst maternal mortality rates of any industrialized nation.
Nesseler invited countries such as the United Kingdom, which has a low maternal mortality rate, as well as countries such as India, which has improved its rate, to discuss strategies for tackling the problem worldwide.
"The United States — we're not the know-it-alls," says Nesseler, who recently retired as a rear admiral, upper level, in the U.S. Public Health Service.
We have things to learn from other countries, and they have things to learn from us."
This notion of global exchange is much like the liberal arts education Nesseler received while studying nursing at USF, she says. Gathering knowledge — whether from other nations or other academic disciplines — is essential to growth and prosperity.
The News Editor
Image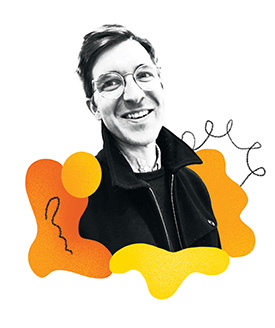 To be a news editor at The New Yorker, it helps to be steeped in the Western canon.
A well-rounded education is "the cost of entry to be here," says Rob Fischer '05, who edits online news and politics stories for the magazine.
Fischer began reading The New Yorker as a media studies major at USF, after transferring his junior year. Knowing that he wanted to become a magazine journalist, he spent most of his time at USF taking journalism courses, learning the nuts and bolts of writing and reporting.
But he also took some liberal arts core courses, including Introduction to Ethics. That class proved just as valuable to his future career. It was a bridge to his graduate studies in philosophy, politics, and economics at the London School of Economics, where Fischer found himself grappling with thinkers ranging from Aristotle to Adam Smith.
Now Fischer works with New Yorker writers who cover more day-to-day topics. But his writers often go beyond today's news cycle to examine the philosophical, ethical, and historical underpinnings of the issues at hand — providing context and perspective that can be lost in the media maelstrom. Fischer helps shape that conversation.
There's an inquisitive culture at the University of San Francisco and in the Jesuit tradition that's definitely helped me in terms of coming here"
The Educator
Image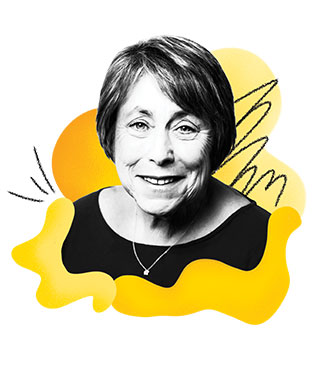 It's no secret that many Americans are fed up with their government. But some folks are fed up with democracy itself: A 2018 poll sponsored by Georgetown University shows that less than half of the nation is "satisfied" with American democracy.
What might bring back confidence in the bedrock ideal of American society? Civic education, says Martha Kanter EdD '89.
Kanter was President Barack Obama's undersecretary of education from 2009−2013. Under her guidance, a group of government agencies, schools, and civic foundations created a plan to make civic education an "integral component" of American education, from grade school through graduate school. The plan, which some states have started implementing, emphasizes the arts and humanities as pathways to forming citizens capable of critical thinking, public engagement, and moral decision-making.
"Our democracy is at risk," says Kanter.
The arts and humanities are essential gateways to our civic future, giving students the opportunity to exercise their constitutional freedom of expression."
The Mentor
Image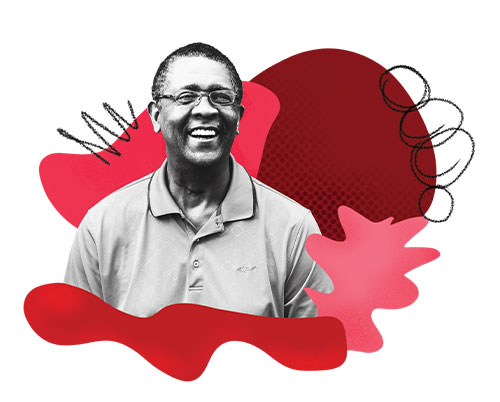 You may remember Bill Cartwright as the 7-foot Chicago Bulls center who helped the team capture three consecutive championships in the early 90s. But before that, he was a USF sociology major. Cartwright '79, MSOD '98 chose to study sociology, he says, because he's an "observer."
"I like to watch first, more than anything else," he says. That's how he knew, for example, that former Celtics center Robert Parrish would turn his right shoulder, under pressure, 90 percent of the time.
With observation comes thinking — because as Cartwright says, "sports is thinking." That love of thinking is why he decided to return to USF to pursue a master's degree in organizational development. He planned on opening a franchise business but was swept back into the NBA when the Bulls asked him to be a coach.
Now you'll find Cartwright back at USF, where he's director of university initiatives, working in fundraising as well as mentoring students. He's also a business owner, with a restaurant in Chicago and a partnership in a car dealership in Wisconsin.
The biggest thing I learned at USF was about possibilities."
"I came from a small town, and I didn't know you could be a CEO of a company, or have your own business. After hearing that I was enlightened to the fact that I was only bound by my own thoughts."
The Tech Leader
Image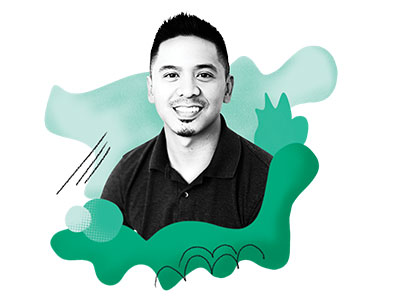 When Jason Bergado walked into a job fair meant for college seniors, he was fresh out of high school and had nearly nothing on his resume but a stint at McDonald's. And yet New United Motor hired him as a programmer.
Bergado MS '04 says he wasn't a programming prodigy, but at the time the company — a joint venture between Toyota and General Motors — was reaching beyond traditional candidates. The decision enabled Bergado to earn a bachelor's degree and eventually a master's in management information systems at USF.
Two decades later, Bergado is in a position to make his own hires. And his USF education, he says, inspires him to take a chance on unconventional candidates.
Bergado grew up in a single-parent home in a rough neighborhood of Stockton. Most of his life he was just trying to survive, he says. It wasn't until landing at USF that he began reflecting on things like meaning, purpose, and ethics — topics infused in USF's campus and curriculum.
"Initially I started at USF selfishly, focusing on how I could improve myself," he says.
By the time I left, I felt a greater calling on how to serve and improve the lives of those around me."
When he was hired as IT director at Box, a cloud-computing company, he initiated hiring practices like working with nonprofits that train marginalized people for college and careers.
Now, he says, half of his team comes from backgrounds similar to his. One of his senior developers was on the verge of homelessness. Another manager was working as a baggage handler at the San Francisco airport.
"USF helped me to define and cultivate an inner sense of service to others and a respect and appreciation for the richness of differences," he says.
The Nonprofit Manager
Image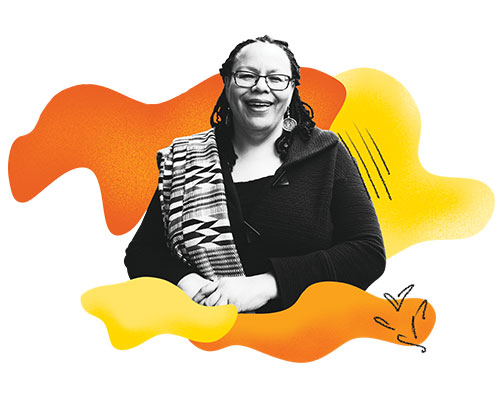 When Antoinette Malveaux '81 studied economics at USF, she acquired the skills to go on to Wharton Business School and become president of the National Black MBA Association.
But when she left the organization in 2002 and traveled to Europe for a two-month personal retreat, she drew on knowledge and skills she'd learned in her religion and philosophy classes.
Malveaux has kept a journal since the age of 14, and it was a religion class at USF that took her journaling to the next level. "You're examining your emotions, examining your feelings, trying to push yourself to be more courageous — or trying to forgive yourself and others," she says.
In the town of Assisi in Italy, she read books about St. Francis of Assisi, adding to what she'd already learned in USF philosophy classes about his legacy as a peacemaker. She also journaled every day.
Those months of reflection led Malveaux to her next and current job as managing director of Casey Family Programs, a Seattle-based nonprofit working to improve the foster care system. Though the nonprofit is similar to the National Black MBA Association in terms of its mission to serve community, it's in many ways a departure from Malveaux's experience in business. Malveaux continues to draw on her values — the same that were reinforced at USF, and that she found herself reflecting on all those years later.
"You gain from bringing peace," she says.
You're fulfilled from helping others."
The Entrepreneur
Image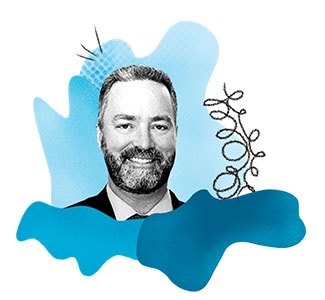 Frank Caufield '90 manages about half a billion dollars in assets, has started four companies, and has invested in 24 Silicon Valley startups.
Not bad for an English major.
The secret to success in business, Caufield says, is connecting to people. How to do that? Tell stories.
A lot of what happens here in Silicon Valley is based on your ability to communicate a story, an idea, and generate some excitement about it."
A good business pitch is like a good story — it's got to have soul.
Caufield started at USF as a business major, but in taking his humanities requirements, he found that he loved studying the novels of F. Scott Fitzgerald and Ernest Hemingway. He knew that he'd eventually go to graduate school for business, so why not enjoy more of the humanities at USF?
The skills he learned as an English major have stuck, he says. "There's an art to writing a good business letter, to being succinct, to being understandable. Most people in my world come from technical backgrounds or have business degrees, so they don't have the language skills I like to think I do."
The Fiction Editor
Image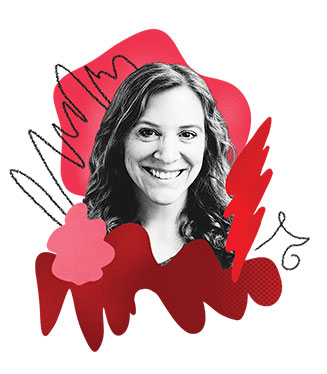 A man standing on a pool table, screaming at the top of his lungs: That's what Kjersti Egerdahl '04 witnessed when she was assigned in her first-year English class to write a paper about a subculture she wasn't part of.
The English and theater major immersed herself in the Bay Area punk scene, first befriending a studded-belt-wearing student in her residence hall and then rocking out at a show where the singer had discovered that just about any surface could become a stage.
This assignment was Egerdahl's introduction to the kind of research that would guide her career.
"I had to get interested in something basically from scratch," says Egerdahl. "That was a big help in expanding my taste in music, which led to going to more shows in college, which led to my first job as an editor at a music magazine."
From the music magazine, she went on to work at a publishing house that creates coffee table books about subjects like the cult TV hit Buffy the Vampire Slayer.
It was exciting to channel that energy from my English class into exploring corners of pop culture I didn't know much about."
In 2014 Egerdahl landed a job with Amazon, editing fiction. She's currently an editor at Amazon Original Stories, where she works with authors including suspense superstar Dean Koontz. She made the transition to fiction seamlessly, thanks to another skill she developed at USF.
"Flexible thinking," she says, "is inherent in a liberal arts education."