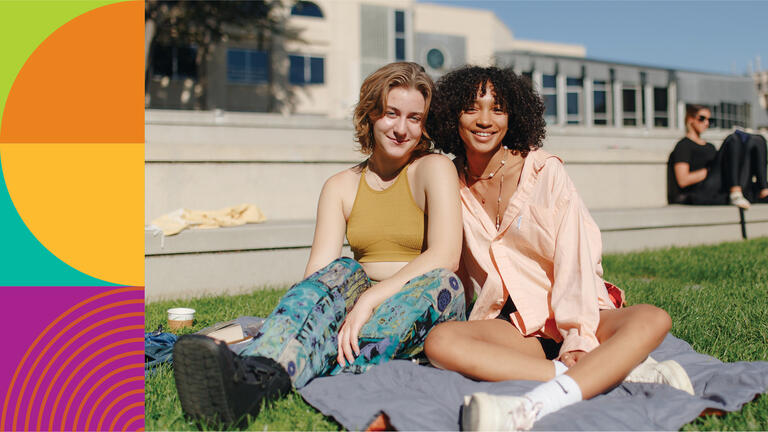 17 Reasons to Love the New Hilltop
At the close of USF's most successful campaign ever, see the difference it has made on campus
Changing the World From Here: Campaign for the University of San Francisco raised $312 million in six years. Alumni and friends invested in scholarships and financial aid, academic programs and new spaces on campus. Here are 17 ways the campaign shaped USF. 
1. Koret Lodge
Image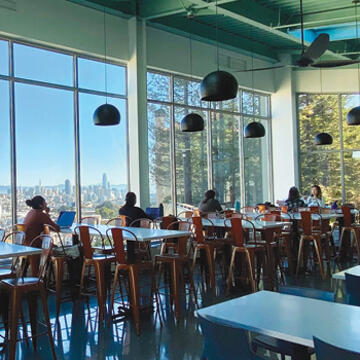 LOCATION: The new dining commons on Lone Mountain, near where the Wolf and Kettle Cafe used to be.
ON THE MENU: Pizza, vegan kale Caesar salad, Indian chicken with cashews, grilled cheese, tofu banh mi.
SWEEPING VIEWS: Nursing student Norman Feng '23 loves the floor-to-ceiling glass windows. "I'm obsessed with the view."
2. Lone Mountain East
LOCATION: Turk Boulevard, between Masonic Avenue and Parker Avenue
NOT YOUR FATHER'S DORM: Housing for 600 students, mostly sophomores, in two buildings (four and five floors, respectively) connected by an overhead bridge. There's a bocce court, fire pit, and twinkle lights, too.
CITY SPACES: When USF looked to expand student housing, it identified a parcel on the eastern slope of Lone Mountain consisting of underused tennis courts and auxiliary buildings. Construction began in 2019. The new residence hall opened in fall 2021.
3. Innovation Hive
LOCATION: The new maker space inside Harney Science Center, Golden Gate Avenue.
TOOLS OF THE TRADE: Sewing machines, 3D printers, Legos, table saws, and more.
WHAT STUDENTS ARE WORKING ON:
"This solar distillation prism takes rainwater and cleans it and stores it," says Sean Vartan. "Rainwater comes through the tube and up into the interval. When sunlight hits the interval, it reflects off the reflective surfaces and focuses on the rainwater, causing it to turn into steam and rise, leaving the dirt behind. The water condenses again after that and gravity causes the water to drip into the cistern at the bottom."
—Rowin Azariah Galvez '24, Sean Vartan '24, and Alexander Khong '24
"This is a fog catcher," says LaPrecious Shannon. "The water collects on the fishing line and gravity pulls it down so that it trickles into the gutter and into a bucket. We want to help the environment and make something accessible and sustainable. It doesn't rain much here and there's a lot of fog, so this could really help local communities."
—LaPrecious Shannon '25 and Lherylle Bunnao '25
"This is a balloon-powered car. We were tasked to make it with as few materials as possible. We didn't even use a balloon. We have sticks, bottle caps, and straws. Balloons were the most expensive material, so we used poker chips to move the car instead of the balloon. When we drop poker chips in the cup, they fall and make the car move. This project matters because sometimes going against the grain can help you come up with more innovative ideas."
—Levy Kottut '25
4. More Support for First-Generation Students
A $10 million gift from the Kalmanovitz Charitable Foundation in July 2021 supports students who are first in their families to enroll in college. Approximately one-third of USF students are first-generation college students.
5. More Support for All Students
There were 205 new scholarships created, including aid for students in the School of Education's Catholic school teaching programs, courtesy of Joan McGrath MA '69 and Bob McGrath. They donated $15 million for scholarships and the Arrupe Immersion programs, as well as for the creation of the McGrath Institute for Catholic Education Leadership, the McGrath Scholars, and the Change the World From Here Institute.
WHAT STUDENTS AND ALUMNI ARE SAYING:
Miles Williams '21, born and raised in the East Bay, was the beneficiary of a scholarship to attend USF thanks to a gift by Peter Read, former CEO of Grocery Outlet. Williams thrived at USF as a member of a 10-student cohort named the Read Scholars. "This program just changed everything for me," says Williams, now a graduate student at Columbia University.
COVID-19 changed Calli Galindo's life. "Both of my parents were temporarily laid off from their jobs and were not able to help me pay for my rent. And as a recent graduate, our graduation ceremony was put on a pause. Not to mention finding a job (after graduation was) not the easiest." Through the COVID-19 Response Fund, USF helped students like Galindo '20. "With the assistance of the USF community, I was able to keep myself afloat," she says.
Rayburn Tang's scholarship enabled him to focus on academics and on finding a career in which he could serve others — a career in adolescent psychology. Tang '22 has put what he's learned in the classroom into action by working in labs, both at USF and UC San Francisco. "Scholarships have allowed me to finish higher education, something I've wanted since I was young. I've had wonderful experiences through the schooling and classes that I've had and the people I've met here at USF."
6. Black Achievement Success and Engagement
SUPPORT: The Black Achievement Success and Engagement (BASE) initiative launched in 2018 to give Black-identified students a community, resources, and scholarships.
MILESTONE: In May, the first class of students to participate in BASE graduated.
WHY IT'S IMPORTANT: When students feel more valued, they are more likely to reach their academic potential, says Candice Harrison, associate professor of history and former BASE faculty director.
WHAT THEY'RE SAYING:  "I'm really appreciative of my peers — Black students, first-generation students, all from big families, who understand what it means to be first in your family to go to college," says Mikel Gregory '22, who is going on to medical school at Columbia University. "I learned what it means to be Black and what it means to be excellent. And what it means to be a person for others — all those values of USF."
7. War Memorial at the Sobrato Center
Image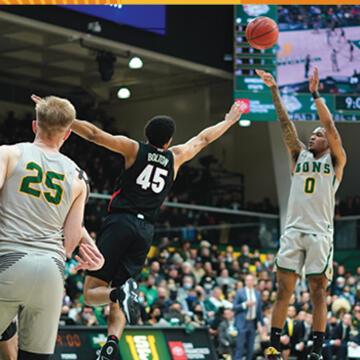 Sixty-four years after it was built to honor USF's military veterans, War Memorial gym has received a facelift, with new locker rooms, an updated strength and conditioning center, a new elevator in the southwest corner, new bathrooms, new ventilation units, and a seismic retrofitting that brings it up to code.
The main entrance was relocated from Golden Gate Avenue to the southwest corner of the building, across from University Center. Construction is underway on a basketball and volleyball practice facility on top of the Hayes-Healy parking garage, next to War Memorial. On the other side of the Hayes-Healy residence hall is the updated Benedetti baseball diamond, which underwent a $6 million renovation in 2015, including a wraparound spectator deck.
The renovation of War Memorial was made possible by a $15 million donation from Silicon Valley philanthropist and real estate developer John A. Sobrato and his wife, Susan. The Sobratos also gave $17 million to establish an endowment for scholarships for Bay Area students. Their combined gift to the university is the largest in USF history.
8. Star Route Farms
LOCATION:  On the Marin County coast in Bolinas, California. It's the oldest certified organic farm in California, and USF's $10.4 million purchase, funded by donors, means the university is putting down roots beyond the Hilltop.
RESEARCH POSSIBILITIES: "For me, as a plant-interested ecologist, the farm is an amazing resource, particularly for such an urban campus," says Naupaka Zimmerman, professor of biology. "It's important for all of our students to learn that sustainable agriculture is absolutely critical to the survival of humanity. Period."
Image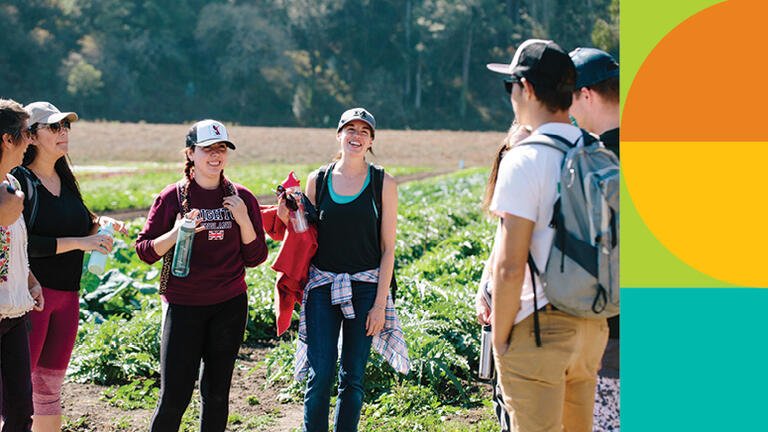 9. Four New Programs You Might Not Know About
CENTER FOR APPLIED DATA ETHICS: Students and faculty at the Center for Applied Data Ethics explore ethical issues such as increased surveillance, the magnification of unjust bias, the spread of disinformation, and predictive policing. This program, as well as the next two on the list, were funded by Craig Newmark, founder of Craigslist.
WOMEN IN TECH: Women in Tech supports female undergraduate and graduate students in computer science, engineering, and data science, paving the way for them to enter the workforce and to close the tech industry's gender gap.
MASTER OF ARTS IN PUBLIC LEADERSHIP: Graduates of USF's master of arts in public leadership program, many of whom are military veterans, have won offices in Arizona and California, found high-level executive branch appointments, and assisted the Department of Defense with COVID-19 vaccine distribution.
ANIMAL LAW: The School of Law has an animal law program with an endowed Justice for Animals chair, Professor Matthew Liebman, an animal rights advocate. The program was funded by a School of Management alumna.
10. VIP Area at War Memorial at the Sobrato Center
The Sobrato Club, a new club level on the west side of the facility, offers basketball fans luxury seating and all-you-can-eat food and drink. The club level will also include a Museum of Social Change Through Sport, promoting Jesuit values through sports and highlighting USF's athletics history, including the story of the '51 Dons football team that elected to not play in the Orange Bowl rather than accept the invitation to play without their Black teammates.
11. 30,000 Friends
Nearly 30,000 people contributed to the campaign. Here's why they give:
MICHAL SETTLES EDD '91: "I'm giving the money to the place we care about," she said of the George Floyd Memorial Scholarship she established with her husband, William Settles MFA '95. "I trust USF, and I'm tickled pink that a student will be able to benefit from this."
JANET ROXAS '05: "As a student, I was fortunate enough to receive small scholarships from different organizations within hospitality. Even though they were small, they still felt very impactful and important to me. By giving back today, I can continue the cycle of helping the next generation of students."
JOAN MCGRATH MA '69: "It takes a community. When we work together, we have to come from a point of view that I am not a success unless we are."
AL SCHUBERT '79: "USF responded when I needed help the most and in turn, it shaped me into who I have become."
ROCK GU '20: "If you only think about yourself, one day the rich will become richer and the poor will become poorer. Society will not become stable. So, I think investing in education is always right, no matter how much it is. I think everybody will benefit from that."
ARGEL SABILLO '09: "We're so grateful for our USF education and the connections, it just made sense." He and Jessica Casas '09 were married at St. Ignatius and, in lieu of wedding gifts, the couple asked for donations to the university.
SAL TORRES JD '88: "I grew up at a time when there were very few leaders of my race, my culture. There were some, but not a lot. It was always about trying to become a leader in whatever I was doing, in my classroom, in my community, in my work. It was about being a thoughtful leader, somebody who influences positive change, somebody who motivates people to do better than what they are doing."
ALAN DAVIS AND MARY LOU DAURAY:  "We want to help create a new era of hope and leadership. We still have a shortage of leaders with the kinds of values we need. The goal is to establish these kinds of leaders."
12. Engineers of the Future
Engineering returned to USF for the first time since before World War II, and the first class of USF's engineering program, the class of 2025, kicked off studies in the fall of 2019. By the second semester, they were learning online due to the COVID-19 pandemic. Faculty created and sent weekly lab kits to students to work on at home and classes continued without pause.
ENGINEERING WITH ETHICS: Students are using Jesuit values, such as people for others and a passion for justice, to tackle 21st century problems such as climate change and water shortages.
SUMMER ZERO: This summer program between high school and the first year of USF prepares students for life in the engineering program.
13. Silk Speaker Series
The Silk Speaker Series is an annual series of talks on campus for students, alumni, faculty, and friends of the university, funded by Jeff Silk '87 and his wife, Naomi. The series has included talks by Stephen Curry and Steve Kerr of the Golden State Warriors, and San Francisco Federal Reserve President Mary C. Daly.
14. The Honors College
Image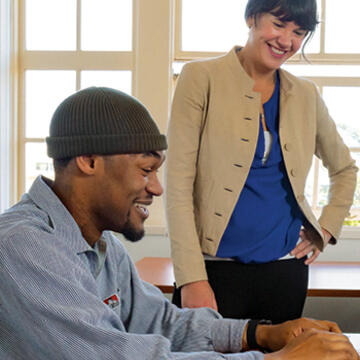 WHAT: The Honors College, launched in fall 2018, brings together more than 400 students in a cross-disciplinary liberal arts core curriculum.
HOW: It was established with a $15 million gift from philanthropist and classical music composer Gordon Getty '56, and a portion went to scholarships for a group of Getty scholars in the Honors College. Now, Getty is expanding his support of the arts at USF, naming the university as one of the beneficiaries of The Ann and Gordon Getty Foundation for the Arts. The foundation will support arts faculty, arts students, and arts facilities.
WHAT THEY'RE SAYING: "It's really nice to feel valued by a university and know that they have chosen you as a student who stands out — to really equip you with the tools you need to get internships, and to be able to study abroad and to be able to have a global education," says Nick Garcia '22, a Getty scholar, with majors in communication studies and French studies.
15. Biotech Research Lab
LOCATION: Harney Science Center, Golden Gate Avenue.
CAREER PREP: A new cell biology lab gives students the tools they need to do life science research, including stem cell science, personalized medicine, and immuno-oncology, in preparation for careers in biotechnology.
LIKE A "MINI BIOTECH COMPANY:" The lab, and a companion upper-level biotechnology course, is the brainchild of biotech entrepreneur Kirk Schroeder, who funded the effort. Students have "the opportunity to work with the course instructors and their industry connections to apply for internship positions in the biotech and tech sector," says Christina Tzagarakis-Foster, associate dean for the sciences.
16. Hall of Fame
A hall of fame in the works at War Memorial at the Sobrato Center honors university athletes as well as USF military veterans. There will be display cases for items like Bill Russell's No. 6 basketball jersey and the soccer program's six national championship trophies.
17. The USF Endowment
"USF's kind and generous donors have established perpetual funding for student access, engagement, and success at USF; support for faculty to teach, conduct research, and help lead the university; and financial resources for the general advancement of the university," says USF President Paul J. Fitzgerald, S.J. The USF endowment supports all aspects of university life, with the largest portion of the endowment funding scholarships.
Compiled by Mary McInerney