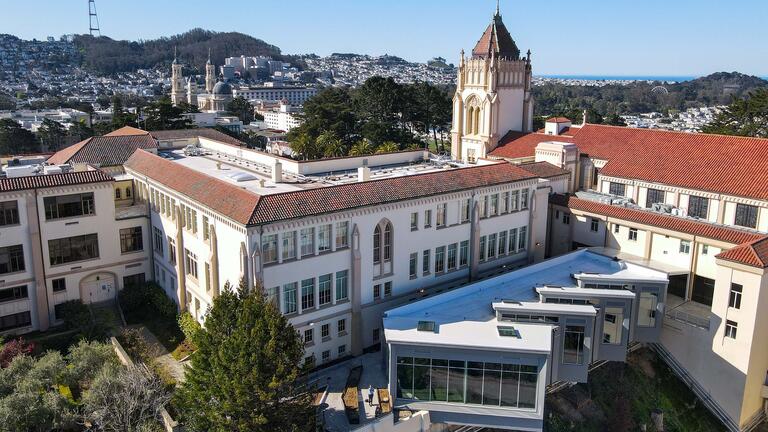 Lone Mountain North Residence Hall
Situated on the crest of a hill, Lone Mountain overlooks the USF campus and offers students spectacular views of the surrounding areas, including the Golden Gate Bridge, Marin Headlands, and Farallon Islands.
Population
Male and female residents
300 residents
Second Year, Continuing, Transfer
Building
Male and female residents
300 residents
Second Year, Continuing, Transfer
Community Areas
Four student lounges
Laundry room (laundry services are free to residents)
Two kitchens, each with refrigerator, stovetop, oven, and microwave
Recreation
Cable TV connector in each room
Flat screen TVs in lounges
Piano
Security
24-hour front desk
Key card required to access residential floors
Key card required to access rooms
Location
Turk St., between Masonic and Parker St.
Closest dining facilities: Open Door and Koret Lodge
History
Originally purchased in 1860 by the first Archbishop of San Francisco Joseph Alemany, the grounds of Lone Mountain were acquired in 1930 by an order of Catholic nuns, the Society of the Sacred Heart. They contracted the construction of the Spanish Gothic building and the Spanish Steps that exist today. This structure was completed in 1932 and became the San Francisco College for Women, which provided a college education to women until 1969. That year, the college became co-educational and changed its name to Lone Mountain College. After facing financial issues, Lone Mountain College closed in 1978 and was purchased by USF, marking a significant expansion of the USF campus.