Engaged Learning
Students Gain Invaluable Hands-On Experience in 2015 Intensive Advocacy Program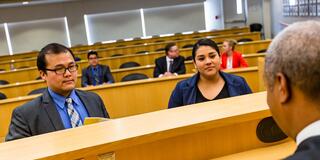 The annual Intensive Advocacy Program concluded on June 7, bringing to a close the two-week course focusing on litigation and trial techniques and strategies. 
This year 43 students worked closely with well-practiced lawyers and judges from across the nation over the course of 80 hours of intensive lectures, demonstrations, and practice workshops in an intimate classroom setting. They covered an extensive list of topics, including taking and defending depositions, evidence, direct and cross-examination of witnesses, direct and cross-examination of experts, jury selection, opening statements, and closing arguments. Additionally, law students are guided through portions of a simulated deposition and trial, receive critique, and review their recorded performances with experienced faculty members. Each student conducts both a mock jury and bench trial to bring together all of their acquired knowledge and developed skills.
"The skills I learned from IAP gave me the confidence to make real life court appearances and tackle any public speaking challenge," said Valerie Lopez 3L, who received the first place honor for excellence. "The IAP faculty impressed me the most. Numerous trial attorneys and judges from diverse backgrounds traveled from across the nation to lecture, conduct demonstrations, and give IAP students constructive feedback on a daily basis."
Sarah Torki 3L and Eric Snow 3L earned second and third place excellence awards, respectively. Elena Yakubova 3L was acknowledged for her creativity. Several students received honorable mentions: Brandon Banks 3L, Kevin Comer 3L, Christina Fathi 3L, Cooper Findlay 3L, Christopher Hadsell 3L, Ani Keledjian 2L, and Daniel Lyman 2L.
"At the end of these challenging two weeks, our students have completed two trials and developed skills in gathering information, marshaling facts, and making persuasive arguments." said Doris Cheng '98, IAP Director and shareholder at Walkup, Melodia, Kelly & Schoenberger who specializes in plaintiff personal injury. "The Intensive Advocacy Program prepares law students more than ever for the profession of the law."