Equipped to Lead and Succeed
Jim Fox BS '66, JD '69 Wins USF's Public Service Award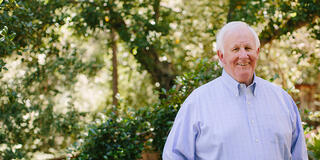 The University of San Francisco presented the 2017 Public Service Award to Jim Fox BS '66, JD '69 at the Alumni Awards Gala on Oct. 21 for his distinguished commitment to public service.
"Jim Fox is the epitome of what we want all USF lawyers to be — hard working, dedicated to his family and community, and serving the public," said Dean John Trasvina. "After decades as San Mateo District Attorney, Jim is playing a pivotal role leading the State Bar — and our profession — through extraordinarily important change."
After earning his JD from USF, Fox began his career in 1970 as a deputy district attorney. He went on to form his own practice and serve as city attorney for Half Moon Bay. During that time, he also volunteered in the private defender program of the San Mateo County Bar Association, providing representation to indigent defendants. He served as the district attorney of San Mateo County for 28 years, before his retirement at the end of 2010.
His service to the state included roles as president of the California State Bar Association, on the Judicial Council and several of its advisory committees, as a special assistant to the chief trial counsel to help reduce the backlog of disciplinary cases, and as a member of the State Bar Commission on Judicial Nominees Evaluation. In 2009, he received one of the Judicial Council's Distinguished Service Awards, the Bernard Witkin Amicus Curiae Award, which honors individuals other than members of the judiciary for their outstanding contributions to the courts of California.
Fox was also president of the California District Attorneys Association and the National District Attorneys Association, as well as chairman of each organization's legislative committees. In his community, he's been on the boards of Mercy, Notre Dame, and Junipero Serra High Schools, and was a member of the San Mateo County Children and Families First Commission (now named First Five).