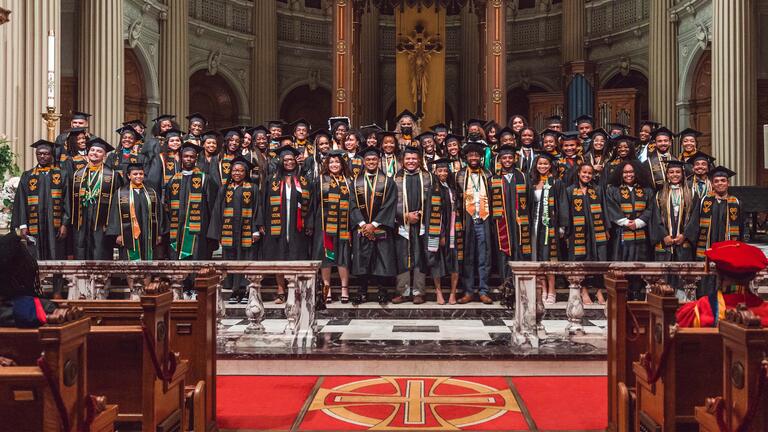 BLACK ACHIEVEMENT SUCCESS AND ENGAGEMENT
Black Resource Center
The Black Resource Center (BRC) provides a safe, supportive space for Black undergraduate and graduate students to connect with each other and explore their potential.
With an emphasis on community and leadership development, the BRC offers engaging programs and workshops that encourage students to tap into their cultural capital and leverage it for the common good.
The BRC is located in the Gleeson Library Room 234 and is open from 10 a.m. to 10 p.m., Monday through Friday.
I want to emphasize that the BRC and its events are spaces created for the Black community at USF to feel welcome and supported. I have met so many awesome people during my position as the BASE Student Coordinator in the BRC last year, and I hope to meet more of the beautiful faces in our community!
YASMINE LELAIND '23
Clubs and Organizations
The BRC is home to many Black organizations and clubs. It serves both as a communal space for hanging out but also a place to study with peers and organize.
Resources
The BRC seeks to connect Black identified students not only to the varied supportive resources USF offers but to opportunities on and off campus that promote Scholarship, fosters Leadership development and cultivates meaningful and impactful Community Engagement.
Workshops
The BRC organizes various workshops throughout each semester to support undergraduate and graduate student success. Some workshops include:
Black Wellness — students will get opportunities to better educate their physical, mental and spirtual wellbeing through multiple series of awareness topics with leadership and faculty.
Design Your USF Experience — learn about tips and guides to advance your academic and personal journey at USF.
Financial Literacy — get highlights and specific information on scholarships, loans, IRAs and even methods to saving money.
Microaggressions — acts of discrimintation can be subtle and unconcious, learn these signs and ways to overcome and thrive.
View Workshop Schedule on myUSF
Programs
Black Leader Fellowship — a program to develop Black students' understanding and practice of ethical leadership through a year-long program providing fundamental skills, frameworks, and strategies needed to create an equitable and ethical impact as a leaders in the workplace. Intership focused!
Professional Development Fund — was designed to provide funding for students exploring ways to continue their development outside of the traditional school (i.e. research, conferences attendance or facilitation, certificates, trainings, etc.) setting.
Economic Hardship Fund — is available to USF undergraduate and graduate students who are unable to meet immediate, essential expenses due to a temporary financial hardship that may jeopardize their health, safety, academic performance and/or ability to stay enrolled at USF. Funds may be used for such necessities as rent, tuition, transportation home, etc. These funds are not intended to be used for routine expenses nor as a consistent supplement to fund the student's education.
BRC Brunches