Athletics
Speed and Support: Women's Track Team Relies on Both to Win
Steeplechaser Baneet Bains reports on how the team did this year
Image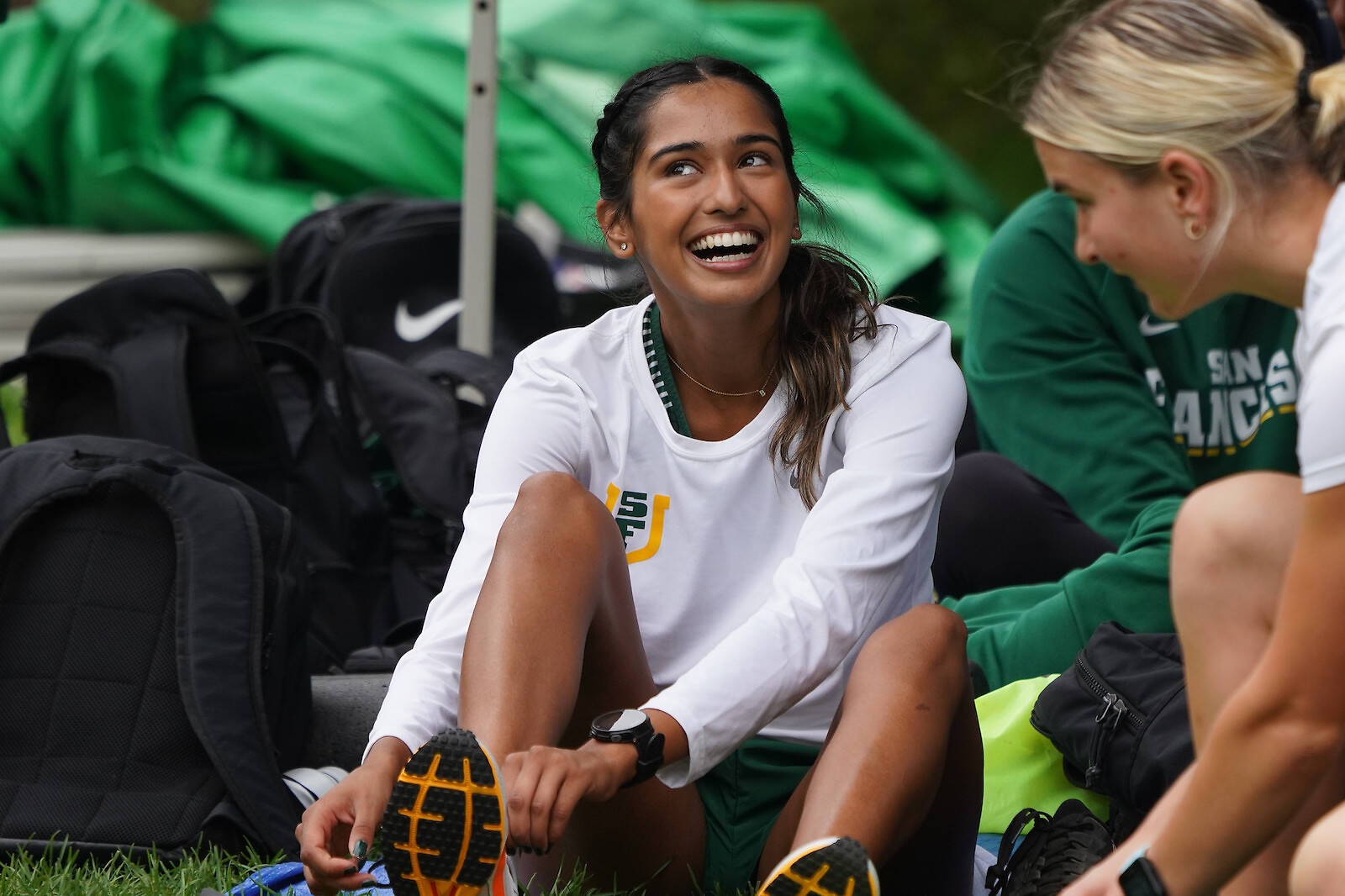 Every time I put on the gold and green uniform, I look forward to representing the USF community and the track and field team. This year, my teammates and I took our dedication to and passion for running to the regional and national championships in indoor and outdoor track and field.
The women's distance medley relay team excelled during the indoor season, bringing home a first-place finish and a school record at the MPSF conference championships. The team includes Julia Morales '23, Abigail Pradere '23, Whitney Hessler '22, and Ruby Smee '23. With many members returning in the fall, this relay team shows much promise for next season.
A highlight from the indoor season was when Smee represented the Dons at the national track and field indoor championships in Alabama. Smee's commitment to running inspires the whole team, and her charisma and care for everyone are the glue that holds us together. She is an inspiration on and off the track.
During the spring outdoor season, a goal for all members of the team was to qualify for the NCAA West Region Preliminary Round. Although I qualified for the prelims last year, I went into this season knowing that there was no guarantee I would qualify again. After two early steeplechase races, I hit my qualifying mark and ran away with my personal best in Portland.
Racing in Portland was a very big deal for me because it was close to my home in Vancouver, Canada, and this made my qualifying time there even sweeter.
USF sent four athletes to the West Prelims last month in Fayetteville, Arkansas: Pradere in the 1,500, Gabriella Mace MPH '23 in the 400 hurdles, Smee in the 5K, and me in the 3,000M steeplechase. Along with our coaches and trainer, we travelled to the University of Arkansas to compete.
At the prelims, Mace finished her collegiate career, placing 18th overall in the quarterfinals of the 400 meter hurdles. For me, it was exciting to return to the West Prelims for the second year in a row, and I came in 36th with a time of 10:44.67 in the 3,000 meter steeplechase, while Smee finished 21st overall with a 16:33.55 time in the 5,000 meter run and Pradere placed 45th with a time of 4:29 in the 1500M.
Looking back at this year's track and field season, I am proud of my teammates and the hard work they have put in as student-athletes. Although track and field is an individual sport, I'm grateful for the powerful impact of a positive team culture and support from our coaching staff at USF.