Giving
Women in Leadership & Philanthropy Reconvenes in Person
Embrace, Explore, Empower: The Eighth Annual Women in Leadership & Philanthropy Symposium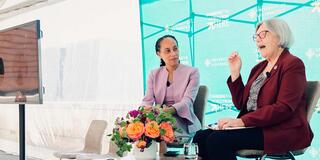 On Thursday, March 10, USF's Women in Leadership & Philanthropy hosted its eighth annual symposium. The event was held at the St. Regis in downtown San Francisco in an open air tent on the terrace. With over 175 attendees, there was a vibrant atmosphere where guests reconnected with peers, colleagues, and acquaintances for the first time in two years.
Cheryl Vargas, Director of Women in Leadership & Philanthropy, said, "It feels incredible to be back together again in person. The symposium is one of our most inspiring events, and humbly reminds me of how many powerful and remarkable people we have in our network who want to lift up other women in this shared journey of leadership."
Staying Close During the Pandemic
Image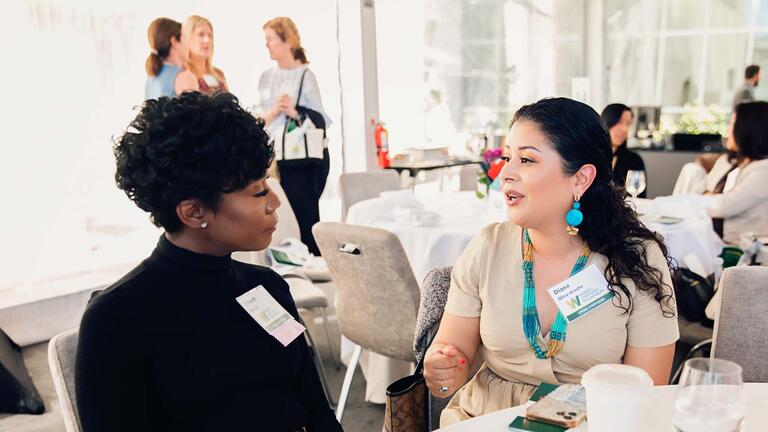 The Women in Leadership & Philanthropy is an initiative within the University of San Francisco's Office of Development that works to advance engagement, leadership, and giving. The initiative aspires to play a role in helping women realize their vision for change and impact through action and philanthropy.
Since the inception of Women in Leadership & Philanthropy, the venture has provided leadership opportunities to over 40 alumnae; engaged over 3000 participants through eight annual spring symposiums, over 10 virtual webinars, and showcased over 60 female-identified speakers.
Over the last two years, Women in Leadership & Philanthropy volunteers stayed in close contact, pivoting to virtual symposiums, zoom meetings, and limited get-togethers. It was clear that this circle of professionals stayed together in hardship – and the strength of community and the spirit of friendship illuminated the day.
In Person, In Community
This year's symposium was themed, "Embrace, Explore, and Empower." With over 18 speakers, the symposium was a rich day of content. Attendees had the chance to learn more about USF programs through the academic fair, and could choose between several breakout sessions. The Heart & Soul Community Champion Award was awarded to the Oliva-Aroche family for their family philosophy that demonstrates core Jesuit values, and whose members aspire to create a more just and humane world.
Image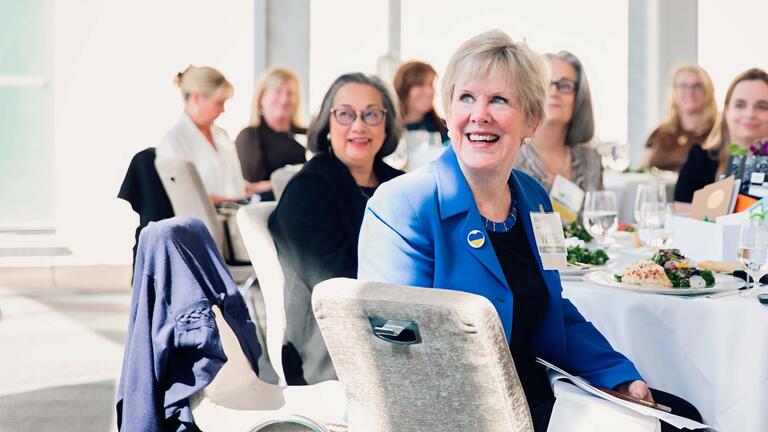 The day began with a morning blessing from Angélica Quiñonez '10, Director of University Ministry, and was later joined by the morning keynote speaker, Ellen Snee, executive coach, author, and speaker. Snee shared that in her experience, working with women in roles of authority, there can be a creative tension between power and relationships. But when women have at least two to three women they can rely on who champion them in a 'squad' they are two and a half times more likely to advance and have higher pay.
"Younger women have figured out how to use tech to connect, understand themselves, develop a squad, and create organizations of women that transcend geography,'' said Snee.
Powerful Together
A common theme of the conference was how powerful women could be together. And the importance of using that power to lead systems, and systems of change.
Afternoon keynote speaker, Sister Simone Campbell, shared her learnings from when she wrote a historic nuns letter in support of the Affordable Care Act (ACA) that was signed by 59 nuns, when the bishops had stated they were opposing the ACA. Through institutionalized systems of religion and law, leadership and advocacy from a group of nuns made the difference. "That tension between their lived experience and our lived experience periodically creates these little explosions of opportunity," said Campbell.
Velma Jim an attendee of the conference stated she felt awed and inspired by the speakers and fellow attendees. She remarked, "A group of empowered women can be daring. As a school of fish — we can do something grandiose together."
Feeling awed and inspired?
Learn more about how you can get involved with Women in Leadership & Philanthropy.