Alumni
When Remaining Essential Becomes Essential
How Alumni-Owned Businesses are Staying Afloat During COVID-19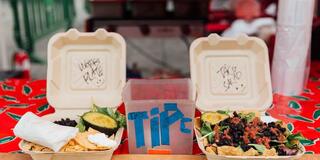 When the COVID-19 pandemic descended on the nation and shut down a vast array of industries, the industries that were deemed "essential" worked to navigate a path forward. For many, especially in the restaurant and hospitality industry, determining how to remain operating as an essential business was essential.
Several USF alumni-owned restaurants reported a loss in revenue, having to make the tough decision to lay off employees, or decided to close their doors entirely in the meantime.
"Being prepared for contingencies is important... an earthquake, massive economic downturn, etc., but a pandemic with people told not to go out was never on the radar," said Martino DiGrande '06, owner of Palio D'Asti, an Italian restaurant in downtown San Francisco. "After closing for two days, furloughing my staff and figuring out a new menu I reopened for takeout and delivery."
Many were faced with the decision to shift their business models entirely in order to stay afloat during what has become not only a public health crisis but an enormous economic crisis as well.
Ghassan Shamieh'11, founder and president of CREAM, ice cream stores, said essentially 90 percent of his stores have had to shut down completely due to lack of business volume.
"The whole landscape of what it means to be in the foodservice industry has changed," Shamieh said.
"It changed everything, nearly overnight," said Susan Drucker MET '00, owner of 31st Union, a Michelin Guide recommended restaurant in downtown San Mateo.
People Over Profit
Although the landscape of this industry is tumultuous at the moment, the priority of business owners from the onset of the crisis was how to care for their staff. Acting in alignment with the Jesuit principle as men, women, and people for others to ensure these business owners put the wellbeing and safety of their staff, and their communities as a top priority, despite trying times.
"Initially, we shut down completely and gave away all of our food to our staff and their families," explained Igor Litvak '09, MSFA'10 owner of Red Tavern. "We then established an abbreviated menu of our most popular items and began doing takeout orders. Delivery services are pricey, so they are not really an option for us in these tight times."
Several restaurants and food service businesses have pivoted to working with digital app delivery services like DoorDash, UberEats, and Postmates, but these services often take a significant cut of the profits. Still, turning to these services has helped business-owners keep from going under.
"On a personal level, it is difficult having a team to take care of and seeing other businesses struggle during this difficult time. Financially, you have to find a balance because you need to consider how you will take care of your team," said Adar Halil JD '14, owner of San Francisco's Hometown Creamery.
Although the landscape for this industry is tumultuous at the moment, several alumni have taken this moment to reflect on how their Jesuit education has aided them during the uncertainty and difficult decisions at hand.
"The Jesuit way is always part of our mission statement and that is: 'People before Business,'" said Jeffrey Spiegel '90, owner of Mont Blanc Pizzerias Inc. "We have offered our buying power to the general public and distributed toilet paper, flour, sugar, hand sanitizer, etc."
Acts of Kindness During Crisis
Oftentimes the hardest crises bring communities together more than they tear them apart. While many of us have been home, those working in the hospitality industry and essential businesses have both witnessed and participated in unmatched acts of kindness.
Simileoluwa Adebajo MSIDE' 18, head chef and owner of Eko Kitchen, Nigerian restaurant in San Francisco had a friend and customer purchase over 60 meals to feed workers at Zuckerberg San Francisco General Hospital and additionally has worked with a nonprofit called SFNewdeal to feed more than 2,000 meals to the city's vulnerable populations during this time.
"It has been a very fulfilling month for us at Eko Kitchen," Adebajo said. "I believe that understanding that I must change the world from whatever corner of the universe I find myself helped me to grasp that this was a time to give back to the community."
Many restaurant owners and their staff have shared they have received an outpour of support from their loyal customers and have seen an increase in tips and an excess of words of kindness.
"We are deeply humbled by the number of loyal customers we have had visit us for takeout and to-go orders. We are so grateful that they are generous with both their repeat visits and their tips for our dedicated servers during this difficult time," shared Kenneth Pizzi MPA '00, Thai Tamarind Restaurant
"During this period I have been impressed with the majority of our customers. They have been over tipping and thanking us for being there for them," Spiegel also shared.
The Path Forward
Determining the next steps, both short and long term, for these alumni business-owners at this time is challenging. No one is quite sure what the next few months hold, but all have hope that some sense of normalcy will return before too long for the industry.
Food industry expert, activist, author, Alice Waters, owner of Chez Panisse, shared in a USF Virtual Event on May 12 that although she does not know what the future holds for the industry either, she believes in the importance and resilience of the industry.
"Connection to people is so important and we will find another way to connect," Waters said. "People want to cook for other people. That stays with you. We will find our way. We will."
Check out our list of alumni-owned restaurants »
View the recording of Alice Waters in conversation with USF Hospitality Professor Kathy "K.O." Odsather to learn more about the state of the hospitality industry and what the future might hold. Hear more from Alice Waters »
Support is still needed in many areas as the situation continues to unfold worldwide. So we can continue to support our global USF community, consider giving to the COVID-19 Response Fund »