Diversity
Welcoming the First New Moon of 2023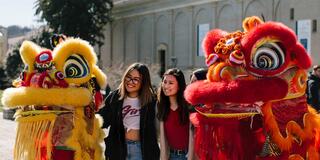 As we welcome in the new year on the Gregorian calendar, the 2023 Lunar New Year begins on Sunday, January 22. Lunar New Year is a season for auspicious tidings across many Asian countries, and as the festive period approaches, three USF alumni reflect on the celebratory rituals, gatherings, and foods that help them keep their heritage alive.
Brittany Ong '15
Image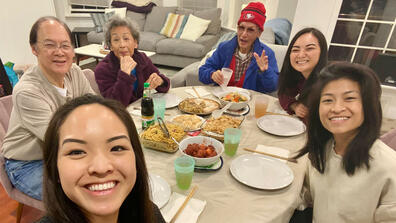 "I celebrate the Lunar New Year holiday differently each year, but there are elements of tradition that remain consistent for me — food and community. Whether I order Chinese takeout with my family or assemble dumplings at home with friends, a meal brings people together and fosters a space of love and warmth. This past festival period, I participated in the YMCA Lunar New Year Run. Even this celebration in the form of running embraced those elements of tradition for me, as I could take in the familiar smells of spices and dim sum on the running route throughout Chinatown and run alongside friendly faces. Lunar New Year always feels like a celebratory time to reconnect with my culture and share these customs with others."
Tseten (Tenny) Yangdron '19
Image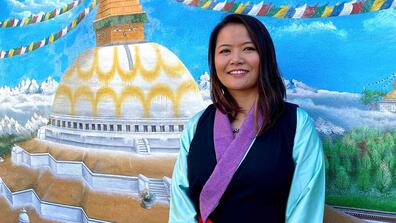 "Tibetan New Year, also known as Losar, is celebrated by Tibetans worldwide. Two days prior to the new year, Tibetans bring in the new year and say goodbye to the previous year by eating a special noodle soup called "Gyu-thuk" and then cleaning and decorating the house on the 30th.
The next day we will wake up before dawn and have a morning feast. Special meals are prepared, including warm barley/rice wine called "Changkol," sweet buttery rice, and different types of Tibetan cookies "Khapse," which are all staples in every household during Losar. On the third day we will go to the temples to celebrate the new year. We hoist prayer flags, perform "Sangsol" where we pray for happiness and prosperity for all beings. Every year, I take a couple of days off during Losar to bring in the new year to celebrate my family, our culture and community and offer gratitude for the past year."
Jessica Chew '09
Image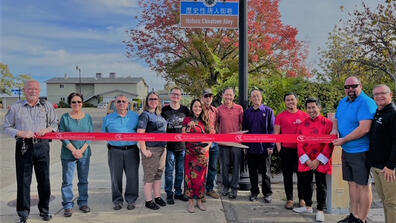 "My family is from the Fushi or Floating Stone village, Guangdong Province 台山縣 浮石村. They arrived in 1865 by a steamboat that took them to the last stop, Red Bluff, CA. They established herbal practices similar to today's traditional Chinese medicine. As one of the original families in the area, a foundation composed of three USF alumni worked hard with the city to name a street: Historic Chinatown Alley.
This Lunar New Year, the street signs have been installed and on January 28th, alumni are bringing in Lion Dancers from Sacramento to bless the street signs and the town with prosperity. This is the first time Chinese New Year will be celebrated in over 100 years in Red Bluff. Currently, we are also working on a book with Arcadia Publishing called 'Chinese in Tehama County' and have several events planned as a result of the book."
 

Lily Yuan '10

Image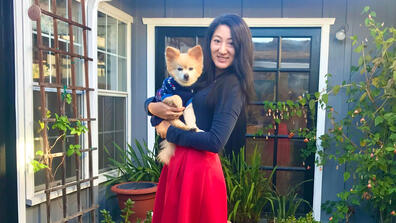 "Every year, my younger brother and I return to our family home to celebrate Lunar New Year. With our parents, we continue the tradition of preparing our ancestors' favorite foods. We burn gold and silver-foiled paper, folded like ingots, as offerings to our ancestors. To close out the evening, we toast our ancestors for the past year, and ask that they watch over us for the new year."