Alumni
A Warrior for Sports and Community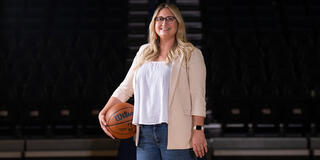 Britt Burkett, MA '15, is currently the manager of Generation Thrive, the Warriors Community Foundation and Kaiser Permanente first-of-its-kind nonprofit hub that supports and celebrates educators and nonprofit organizations by providing free community spaces and professional and personal development programming. Burkett received her master's degree in sport management at USF, and has since worked for the Golden State Warriors and the San Francisco 49ers.
How did USF's Sport Management Program launch your career?
When choosing a graduate school, I wanted to make sure I would be able to build a network and make connections while I was in school. USF stood out to me because San Francisco and the Bay Area have so many opportunities for a career in the sports industry, and the USF alumni network is unmatched. I wouldn't be where I am without the mentorship I've had and connections I've made. Not only did I benefit from the alumni program, but the faculty at USF is composed of industry leaders which helped expand my perspective and network.
You've had a lot of experience working for non-profits like Generation Thrive. Why do you give back to your community?
Community is essential to the human experience, and we rarely are able to move through hardships in isolation.
Community is essential to the human experience, and we rarely move through hardships in isolation. I'm a very relationship-focused person and I've seen first-hand how tragedy and trauma impact people. I'm very passionate about mental health, hunger relief, and the re-entry of people who have been impacted by systems and mass incarceration. Overall, working in social impact allows me the privilege to support and empower members of our community. I'm a Bay Area native and giving back to the community that raised me is something I don't take for granted.
Looking back at your time at USF, what experiences have been impactful to you and helped shape who you are today?
The relationships I made with my cohort are a big part of my daily life and I have former classmates who are very close friends. The strategy and creativity behind job searching I learned at USF has also been impactful to me. The people who power the sports management program genuinely care. Rich Cellini's introductory course on professional and personal development taught me things I still carry with me today. Finally, the fulfilling relationships I made with alumni modeled the alumna I aim to be.
What is a piece of advice you would give to current Dons pursuing a career in sports management?
You owe it to yourself to explore all of your interests and challenge yourself to get out of your comfort zone. Taking risks and leaning into discomfort can lead to you the most fulfilling parts of life. One of the best pieces of advice I received was from Stacy McCorkle, my former boss with the 49ers and USF Sport Management alumna, which was to seek experience in the non-profit sector.
Although this is easier said than done, don't compare your journey with anyone else's. Celebrate your peers' victories and support each other through losing streaks. You are in the most unique position to be in a community of people who love sports as much as you, so take pride in going through this experience together.
Lastly, make sure you love what you do. It's going to be a lot harder getting out of bed in the morning after you've worked a 12+ hour day if you aren't fulfilled. This industry is demanding and expects you to make sacrifices, so don't be afraid to try something new if you start to feel uninspired. We are meant to evolve and so are our passions.
We are meant to evolve and so are our passions.
USF has had a historic legacy with basketball. What do you think basketball has taught the Golden State Warriors about giving back and showing up for their community?
After working in sports for 14 seasons, it's been a career highlight and a dream for as long as I can remember to become a champion and receive a ring. While I'm grateful to experience the thrill of on-court performance, I'm most grateful for the impact that happens off the court in our communities.
One thing I love most about sports is that we are constantly on the forefront of social justice movements and advocacy. I am so proud to work for a team that supports our athletes and coaches for taking a public stand for what they believe. People look up to athletes, and when they use their platform to be a voice for communities who are not heard, it is powerful. I appreciate that sports serve as a vehicle for advocacy and that is one of the primary reasons I am most proud to work in this industry.
---

Learn more about how to build your USF alumni network.