Alumni
Values of the Heart: Facing Adversity with Compassion and Art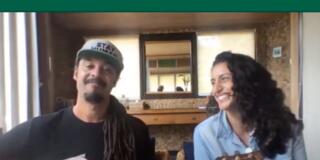 Founder's Week, a week-long event celebrating USF's values and community, concluded in a heart-warming conversation with married activists, musicians, and co-founders of the non-profit organization, 'Do It For The Love', Michael Franti and Sara Agah Franti. The couple spoke with Dean Rader, poet and USF English professor, about how they nurture their spirited philanthropy through their art and wellness patterns.
Creating wellness for ourselves and the planet
The Frantis' work is largely geared towards inspiring action that puts human wellness first. With the global pandemic and current issues upending careers and livelihoods, the two hope to provide insight about facing the greater conversations our communities need to have.
Michael's music, films, and projects like Soulshine, a retreat center and hotel founded in Bali by him and his wife, reflect some larger themes of healing and compassion for ourselves and others.
The two started off the talk by singing two songs from Michael's newest album titled Work Hard, Be Nice.
"When it's dark, look on the bright side, when it rains, wait on the sunshine, everybody likes getting them good vibes, cuz everyone's got a heart on the inside," sang Franti.
Michael's upbeat and spirited tone complemented by Sara's harmony created positive manifestations about how to hold onto our humanity as we face life's hardships.
Aside from making music, the family uses their platform to uplift other artist's voices through their non-profit organization, Do It For The Love. Sara shared how the experience of attending their concert events is therapeutic and relieving to those battling mental illness.
"We are giving people the tools to ride the wave of life," added Sara.
Finding value in our differences
Amidst the troubling conditions that many communities are facing, themes of self-discovery, resilience, and activism remain constant for the Frantis. Sara grew up with expectations that she would follow a specific professional path so she was inspired by Michael's willingness to follow what he loves at the moment. This, she says, will open doors that are unimaginable and far more rewarding.
"There's something that each of us has that's inside of our heart that we can find and express and we can apply that in some small way," said Michael.
Sara shared how communicating her art and her work in an authentic way allows her to evaluate the things she stands for. She found that her creativity helped bolster many of her personal ideas as a member in her community.
For Rader, art is a form of consolation when he feels displaced within his role as an educator and a member of society.
"I think poetry, music, and art are an alternative discourse to the database rhetoric that we tend to hear all the time. We need this other source, this kind of deeper wisdom and deeper thinking," shared Rader.
Mindfulness in service
Michael spoke about several people who were pivotal to the healing mentality he fostered through his songs and career. He told his story of growing up within communities in which he didn't fit in and struggled to receive an advanced education.
Michael spoke fondly of former USF professor, Father Albert Huerta, and the impact that he had on the way that Michael approached poetry and his career in music. In addition to tutoring Michael in class, Fr. Huerta kept in touch with his music until his later passing.
Sara concluded the talk by sharing how she was able to stay true to her work while continuing to honor her personal values. She gave three important steps that she said have allowed her to be honest with herself and others:
"Get clear on your values, tap into your courage to live in those values, and hold self-compassion."
Fr. Paul Fitzgerald's closing remarks honored how the Franti family lives out the Jesuit spirit in a different light.
"Thank you for inviting us to allow the current injustices of the world to break our hearts. Let that same sense of crisis stiffen our spines to make us stand up for justice and make us stand up for the oppressed, and for those that don't yet have a place at the table."
Support is still needed in many areas as the situation continues to unfold worldwide. So we can continue to support our global USF community, please consider giving to the COVID-19 Response Fund ».