USF's New Podcast Celebrates Asian American Alumni Stories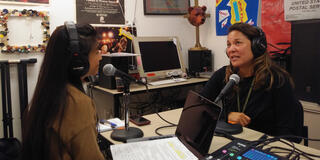 After searching for a way to get more involved with USF and the Asian Pacific Alumni Network (APAN), Kristine Alarcon '15 was inspired to start a podcast surrounding the Asian American Pacific Islander Native Hawaiian (AAPINH) community. Together, Alarcon and the podcast's host, Collynn Dang '15, will highlight the unique experiences from AAPINH alumni at USF. The podcast launches in May.
What inspired you to start the Asian Pacific Alumni Network podcast?
Kristine: I love hearing stories from people on what influenced their life: their decisions, career journeys, their life history. There are so many communities within the AAPINH designation, so lumping us all together doesn't give us a full picture of our strengths and challenges. This podcast is hoping to showcase the experiences of our community, and to highlight the impact that USF has had on us.
How did you both come together to create the podcast?
Kristine: The USF Asian Pacific Alumni Network (APAN) brought us together. I was trying to find a way to network with other USF alumni and get involved with students, and I was looking for an opportunity to give back to USF, so I joined the APAN board.
I was looking for ways to engage with the community, and that's when I was introduced to Collynn.
What topics will you cover in the podcast?
Kristine: The AAPINH designation covers Asian Americans, Desi Americans, Native Hawaiians, and Pacific Islanders; and we want to show that identity and culture has influence on career journeys and life experiences. There's a lot of hate towards the Asian American Community, which I think could be addressed with love. So hearing how people love their culture, love their time here at USF can really highlight the experiences and just help us to understand each other more.
Who is the main audience for the podcast, and what do you hope they will take away from listening?
Kristine: Our main audience for the podcast is the past, present, and future of the USF network.
We don't always stay connected with our USF classmates, so this podcast is a way to get more information about what the USF community is doing. This podcast is intended to be a source of inspiration from alumni, as well as a way to connect over our common experiences, cultures, interests, and being a Don.
Collynn: There are so many talented and amazing individuals who have come from USF. I hope that with this rebuilding and reconnection in the network, it can branch into something more than just rekindling friendships or memories, but also working together to better the community.
How do you hope the podcast will evolve as a project and gain more traction for APAN in the future?
Collynn: I'm hoping that this podcast can really foster and build more connection and community whether it's connection amongst alumni to alumni, connection between students and alumni, or even faculty/staff and alumni in a way that when listeners hear these stories, they can find a space where it can spark either inspiration or a relation to these stories.
Kristine: I hope it continues to showcase that the APAN community is not a monolith, that we all have experiences that make us unique, and bring us together.
Why do you think people should listen to the APAN podcast?
Kristine: I think it gives a unique look at what the USF experience is like, and how it provides a foundation for people's careers as well as their life journeys. Because of that, you get a sneak peek at the legacy of what all of our AAPINH students have here at USF and how they're able to impact the rest of the world.
Collynn: USF has given us so much individually. Where I am today, my career, my network, and all of my closest friends are from USF. I want to hear more of other people's stories and hear how USF and its culture has influenced who they are today.