San Francisco Advantage
USF's Neighborhood is Ranked Top 40 in the World
The Richmond named among "the greatest places for fun, food, culture, and community"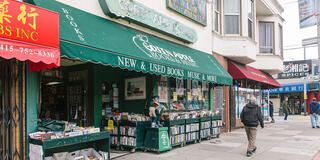 Time Out, the arts and culture magazine published around the world, has named USF's neighborhood among the coolest on the planet.
In a story called "The 40 Coolest Neighbourhoods [sic] in the World" published this month, the magazine said, "The Richmond District, spanning 50 blocks in the northwest section of the city, is a microcosm of what makes San Francisco so special: natural beauty, rich culture, and incredible cuisine from every corner of the world."
USF stands in the geographic center of the city at the eastern edge of the Richmond District. Time Out ranked the Richmond neighborhood No. 27 in the world, two spots above El Clot in Barcelona, Spain; two spots below Hannam-dong in Seoul, South Korea; and six spots above Ponsonby in Auckland, New Zealand.
"The Richmond District is one of the most exciting places to eat and play in San Francisco right now," said the magazine. "Just don't forget your hoodie."