Engaged Learning
USF's Downtown Campus Opens for Business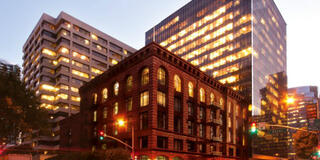 The University of San Francisco celebrated the official opening of its Downtown Campus with a gala event on Sept. 14.
The opening was held at the historic Folger Coffee Building at 101 Howard Street, home to the new Downtown Campus. The event featured keynote speaker Marc Benioff, CEO of Salesforce.com.
Benioff highlighted the advantages of the new location for professionals interested in pursuing a business degree, as well as for students and faculty interested in building contacts with and gaining insights from San Francisco business leaders.
"With neighbors such as Google, Twitter, DropBox, Salesforce.com, and established legal and financial services firms, USF's Downtown Campus presents tremendous opportunity for new corporate partnerships and places USF in the center of innovation," said USF President Stephen A. Privett, S.J.
Having a presence downtown reinforces the university's existing business and civic ties and underscore USF's commitment to engaging with the city on a mutually beneficial level. The Downtown Campus is the new home for many USF Masagung Graduate School of Management programs—including the MBA and financial analysis programs, which began holding classes there this summer.
The opening of the Downtown Campus marks a return to the university's roots: The building, listed on the National Register of Historic Places, is located within walking distance of where USF was founded in 1855 at Fourth and Market streets. USF purchased the Folger building in August 2011.
Know someone with a powerful USF story? Let us know! usfnews@usfca.edu | Twitter @usfca