Passion for Justice
USF Student, Darfurian Refugee Speaks Against Genocide
Firsthand Account Calls Public to Action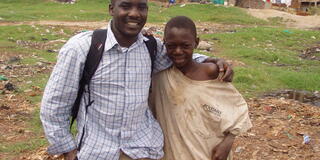 Adeeb Yousif came to the University of San Francisco the hard way; perhaps the hardest. A refugee from Darfur, Yousif, now a master's degree student in international studies, fled his home after being jailed for speaking out against the government-supported genocide there and came to the U.S. He cannot return to Darfur for fear he will be killed.
Several attempts on his life already have narrowly missed.
The founder and director of the Darfur Reconciliation and Development Organization – a nongovernmental organization working on the ground to assist refugees and the communities that host them with health, nutrition, and environmental services – Yousif will be one of several firsthand witnesses, along with two USF faculty, to recount the ongoing genocide taking place in Darfur at the social justice Shavuot: Ending the Genocide in Darfur May 18 at Temple Emanu-el in San Francisco at 9 p.m. Shavuot, the Jewish holiday commemorating when Jews received the Torah from God, is an opportunity to unite around the issue of social justice in Darfur, said USF Assistant Professor Aaron Hahn Tapper, director of the Swig Program in Jewish Studies and Social Justice.
Social justice Shavuot: Ending the Genocide in Darfur May 18 at Temple Emanu-el in San Francisco at 9 p.m.
The Swig Program, under Hahn Tapper's direction, has taken the lead in organizing the event.
"By offering a session on genocide, and contextualizing it within the Jewish tradition, we hope to raise awareness among those that participate that evening in regards to the ongoing death and destruction taking place in Darfur, and, perhaps most importantly, excite and empower people to do something about it," Hahn Tapper said.
A student of conflict resolution who will put to work what he has learned during an internship in Kampala, Uganda this summer, Yousif conducted research on Darfur for Assistant Professor of sociology Anne Bartlett before coming to USF. Bartlett, the former chair of the United Nations human rights hearing on the Darfur crisis in April 2004 and the director of the Darfur Centre for Human Rights and Development, and Gamal Adam, USF adjunct professor, secretary general of the Darfur Association of Canada, and a Darfurian refugee are also scheduled to speak at the May 18 event.
Yousif, who blames the struggle for wealth and resources for much of Darfur's troubles, has been busy raising awareness among the public about the ongoing and, in recent months, escalating violence taking place in his home country. He worries about neighboring countries following suit should Sudan continue its march toward regional partition at the hands of various rebel and government-supported groups and has spoken to Human Rights Watch, several United Nations agencies, and at universities, churches, and high schools across the country about the dangers of allowing such a precedent.