Passion for Justice
USF Senior Founds Sports League for Typical- and Special-Needs Kids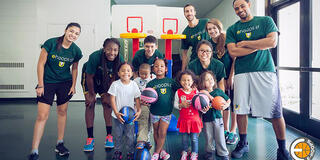 Dons basketball players coach dribbling, passing, and shooting to typical- and special-needs kids at War Memorial Gymnasium.
Montray Clemons '16 is still smiling about what happened weeks ago when the Dons forward led basketball drills for a group of typical- and special-needs kids at USF's War Memorial Gymnasium. Every few minutes one of the kids would light up like an incandescent bulb, their eyes beaming because they'd just learned to dribble between their legs or shoot a basket.
"It was quite a feeling. I held up this one little guy, about 9 years old, so that he could dunk," said Clemons, an advertising major. "He got real excited and ran over to his dad. 'Did you see me dunk? Did you see me dunk, dad?'"
Kids learning from kids
Clemons is one of two-dozen USF men's and women's basketball players, coaches, and staff who are volunteering as E-Hoops (Exceptional Children Basketball) SF coaches this fall. They coach 40 to 50 kids on dribbling, passing, and shooting for an hour two days a week. About half of the kids have special needs.
"E-Hoops SF is about loving and supporting kids and families with special needs as well as socializing them with typical kids in a fully-inclusive setting," said Naim Tate '15, a USF sociology major who founded the program.
It's a great way for special-needs kids to learn from peers by watching — whether it's how to shoot a basketball, pass a soccer ball, or make friends, Tate said.
Sharing his love of the game
Tate, who plans to teach elementary school after he graduates, first dreamed of starting E-Hoops SF two years ago, at the same time he began coaching E-Soccer. "I've played basketball since I was 6 years old and knew this would be a great way to share my love for the game," he said.
This fall, all the pieces fell into place — with help from LaSchaunda Smaw, from the School of Management's Office of Marketing and Communications, who Tate knew from E-Soccer, and USF Men's Basketball Coach Rex Walters. Started in 2000 in Foster City, E-Sports programs have sprung up across the Bay Area, catering to kids ages 5 and up. Each operates independently, is staffed entirely by volunteers, and is funded by donations.
The idea of E-Hoops SF, and E-Sports generally, meshes with USF's social justice mission to be men and women for others and to advocate for those who can't speak for themselves or are disenfranchised, Smaw said.
Leaving a legacy
"When Tate and Smaw told me about E-Hoops, I thought it was a great idea," said Walters. "The program helps the local community, promotes sports and a healthy lifestyle, and opens kids and adults up to diverse perspectives," Walters said.
Tate, who is already lining up participants and volunteers for the spring, hopes to turn the program into a self-sustaining student club before he graduates.
Know someone with a powerful USF story? Let us know! usfnews@usfca.edu | Twitter @usfca