Diversity
USF Community Seeks Education on Inclusion
ADEI boosts training to meet high demand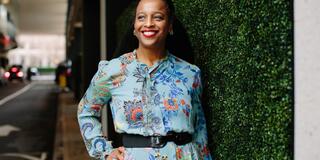 When USF held an online vigil June 3 in memory of George Floyd, more than 800 people showed up.
"That showed us the need," said Mary J. Wardell-Ghirarduzzi, vice provost of antiracism, diversity, equity & inclusion (ADEI) at USF.
Today, diversity, equity, and inclusion training sessions by ADEI have seen a 10-fold increase in attendance over a year ago, said Gladys Perez of ADEI. Where 20 to 30 people might have attended sessions on campus last year, 275 students, faculty, and staff signed up for training sessions in June and July of this year. Another 300 are joining sessions this fall.
The top three topics: Centering Equity and Anti-Racism, Microaggressions 101, and Whiteness 101.
"There's a lot of learning happening," said Wardell-Ghirarduzzi, who is chief diversity officer at the university.
Greater Reach to Meet Demand
In the 10 years ADEI has been educating the USF community, said Wardell-Ghirarduzzi, she has never before seen this much demand.
The racial reckoning in this country has created a desire for education, she said, and online learning, due to the pandemic, has opened up sessions to more staff and faculty, particularly those at other campuses such as Downtown, Pleasanton, and Orange County.
"Being on Zoom really gives us a great reach," said Perez, who works for ADEI and also for the Institute for Nonviolence and Social Justice, which offers diversity sessions, too. "Now we can do a webinar for hundreds of people."
"This has allowed for equity of access," said Wardell-Ghirarduzzi.
And ADEI has presented Anti-Racism 101 to new faculty at orientation.
"We've never done that before," said Wardell-Ghirarduzzi. "That was really a win, because we were able to train all of the incoming teachers."
Stories in a Time of Need
Storytelling is at the core of the 90-minute sessions, she said. People need stories and dialogue, particularly now, with remote working and learning isolating so many.
At the same time, ADEI has expanded its partnerships on campus and nationally. It launched a student advisory board this fall, and Wardell-Ghirarduzzi is part of an effort among Jesuit universities and colleges to use Ignatian spirituality for anti-racism and racial justice.
"I think it's this notion of seeing God in all things and seeing that as an invitation for us to think deeply about the issues facing the world we live in," she said.
Still, there is room for growth, said Wardell-Ghirarduzzi. She is "focused on finding our blind spots, particularly in 2020." She is planning more training for next spring.
"This racial crisis," she said, "is like an existential threat to us and our nation."