Passion for Justice
USF Ranks High for Civic Engagement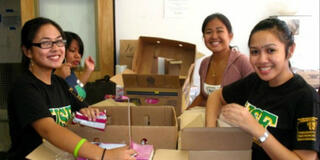 The University of San Francisco ranks among the top universities in the nation for civic engagement, according to a recently published study, "Saviors of Our Cities: Survey of Best College and University Civic Partnerships."
The rankings, compiled by Evan Dobelle, president of Westfield State College in Massachusetts, are a follow up to Dobelle's first "Saviors of Our Cities" study published in 2006.
Dobelle re-examined the 2006 rankings as a result of the changing U.S. economy and with an eye toward tracking the evolution and growing sophistication of efforts by institutions of higher learning to save their cities from increasing blight. The survey is the result of more than 20 years of professional experience and ongoing research, and included a questionnaire and discussion.
The 2009 rankings consisted of a top 25 "best neighbor" list, with other schools, including USF, making the top 100 honor roll. USF was one of only seven Jesuit universities recognized. More than 3,000 schools were surveyed.
The rankings are meant to highlight the positive impact that colleges and universities have on their urban communities, including both commercial and residential activities such as revitalization, cultural renewal, economics, and community service and development, Dobelle said.
"Increasingly, more sophisticated partnerships are emerging that are addressing complex issues such as homelessness and health care and are serving as catalysts for community change," Dobelle said.
USF was evaluated based on a survey sent to nearly all the colleges and universities in the country. The survey highlighted USF's longstanding legacy of community engagement through service and service-learning, student and faculty research that benefits the community, and partnerships with community organizations, including those that aim to boost local students' access to attend college.