Engaged Learning
USF Opens Center for Science and Innovation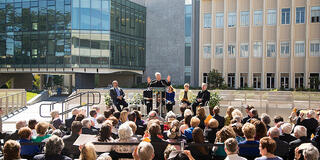 The University of San Francisco celebrated the opening of the LEED Gold designed John Lo Schiavo, S.J. Center for Science and Innovation Sept. 27. The center's opening marks a new chapter for the university in its commitment to bringing top scientists to campus and equipping them for cutting-edge science, computer science, and math research opportunities.
Silicon Valley careers
The center's state-of-the-art labs and classrooms open new opportunities for the sciences at USF, to prepare graduates for Silicon Valley's top careers and to team with local industries on projects. The labs are designed to foster cross-discipline collaboration, using shared teaching, lab preparation, and social spaces.
"This facility directly links the university with the key drivers of the Bay Area's economy — digital tech, biotech, and green technology — and advances USF's efforts to interweave itself into the fabric of city life," said USF President Stephen A. Privett, S.J., at the ribbon cutting attended by trustees, supporters, alumni, and members of the campus community.
In the heart of campus
The 60,000-square-foot, in the heart of the university's Hilltop campus, houses 17 laboratories and classrooms and serves more than 1,000 undergraduate and graduate students in seven departments. It was built on what was formerly Harney Plaza, which was remade into two plazas, one at ground level and one below.
The building is the first constructed to meet LEED Gold standards at USF and features floor-to-ceiling windows, smart technology that opens and closes windows automatically for temperature, a 28,000-gallon cistern tank to collect rainwater for reuse, and indigenous Northern California landscaping.