Global Perspective
USF Olympian to Race for Gold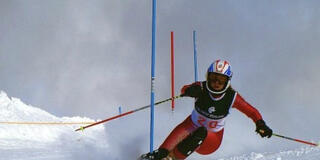 When the University of San Francisco community tunes into the 2010 Vancouver Winter Olympics in less than a week, you can bet it'll be in support of one of their own – women's alpine skier and USF sophomore Ani Serebrakian.
An exercise and sport science major, Serebrakian – who began skiing when she was 2 years old and competing when she was 5 – turns 21 during the Olympics, a competition for which she has been training her entire life. Skiing for the Armenian women's Olympic team, she'll take on some of the world's top alpine skiers in the technical women's giant slalom (Feb. 24) and the women's slalom (Feb. 26).
Gifted women's slalom skiers have been known to reach speeds of almost 45 miles per hour, as they race downhill through 40-60 pairs of flags, or gates.
"Growing up in America, I never fully understood my Armenian heritage," said Serebrakian, whose parents emigrated from the country that now claims among its most famous artistic ambassadors the Los Angeles-based hard rock band System of the Down. "But, after traveling to Armenia, I came to understand how truly blessed I was to be part of such a culture and history."
Serebrakian, who speaks fluent Armenian, called being named to the Armenia team "humbling" and a "great honor."
She had been training hard at Squaw Valley USA since the ski season opened, in hopes of earning a place on the four-person Armenia squad. Perhaps working to her advantage at the Olympics will be the fact that she'll compete at one of her favorite resorts in Whistler Blackcomb.
"Participation in the Olympics is a once-in-a-lifetime experience," Serebrakian said. "I wish to perform to the best of my abilities, wherever that may place me!"