Athletics
USF Names New Director of Athletics
Larry Williams brings to the Hilltop an appreciation for Jesuit education
USF has hired Larry Williams as the school's new athletic director, the university announced Aug. 31.
Williams has served as athletic director at three Division I institutions: University of Portland, Marquette University, and, most recently, University of Akron.
The search committee, composed of people from across the university including students, staff, faculty, and trustees, reviewed more than 40 candidates. Committee members said Williams' experience in Jesuit education was a plus.
"The opportunity to guide the holistic development of the Don student-athletes in the Jesuit tradition of pursuing excellence in all things is especially important to me," Williams said. "Even more, the vibrance and diversity of the university community and the city of San Francisco provide an unmatched setting to achieve extraordinary success."
Image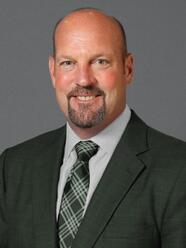 Williams, born in Orange County, California, graduated from the University of Notre Dame, where he was a two-time All-American football player. Drafted by the Cleveland Browns out of Notre Dame, he played for eight years in the NFL, including stints with the New Orleans Saints and the New England Patriots. While he was competing in the NFL, he earned a law degree from the University of San Diego.
After retiring from football in 1993, he practiced law for the Indianapolis-based law firm of Baker & Daniels before returning to Notre Dame in 1999 to work on licensing and product marketing. He began his career as an athletic director when he joined the University of Portland in 2004.
Williams has served on the NCAA Legislative Committee, the NCAA Championships and Sports Sponsorship Cabinet, and the NCAA Men's Basketball Issues Committee. He previously chaired the West Coast Conference Athletic Directors Council.
Williams and his wife, Laura Lee, a former collegiate All-American and national champion tennis player at Notre Dame, have five adult children, all of whom graduated from Jesuit high schools.
Williams is expected to begin his new role in mid-September.