Athletics
USF Names New Athletic Director
Scott Sidwell has been hired as the University of San Francisco's new athletic director. He was most recently the executive senior associate athletic director at Syracuse University.
Sidwell, who begins work at USF in early June after a nationwide search, has headed external operations and directed Syracuse athletics marketing, communications, ticket sales, and media properties efforts since 2008.
Image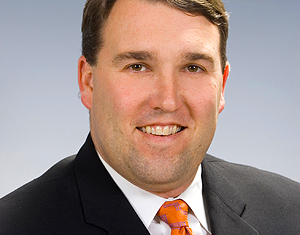 "I am excited to join a department that has such a great history and reputation in college athletics," Sidwell said. "My vision for USF athletics is to develop student-athletes who will excel in the classroom, win at the highest levels of competition, engage in the community, and become leaders who will make a difference in the world."
At Syracuse, Sidwell supervised the Orange Club, the official fundraising organization for Syracuse athletics, and served as the lead senior associate athletic director for campus relations and strategic planning. Under his watch, Orange Club donations rose to $12.5 million from $6.5. Sidwell also led a major campaign for all capital projects and facilities, managed major gift planning and donor naming opportunities, and structured the "SU Tomorrow" capital campaign, among other accomplishments.
"After an exhaustive and highly competitive national search, we are thrilled to have Scott Sidwell as our new athletic director," said Jeffrey Brand, dean of the USF School of Law and chair of the athletic director search committee. "He comes with a proven track record and a broad range of experience in NCAA Division I athletics, including his current work in one of America's top programs. He has all the skills to insure that our student-athletes achieve academic and athletic success and to bring prominence to USF athletics."
Sidwell, a Tulane University graduate who earned two varsity letters as a baseball outfielder and went on to help coach Tulane's baseball squad, is the seventh athletic director at USF since 1961 and takes the reigns from Gary Nelson, interim athletic director and USF golf coach. Nelson took the post in September 2010, following the resignation of Debra Gore-Mann.
Before assuming the role of executive senior associate athletic director at Syracuse, Sidwell served as the senior associate athletic director for development. Prior to joining Syracuse athletics, Sidwell spent five seasons at his alma mater, Tulane, as the associate athletic director for corporate development and worked on Tulane's external operations staff. From 1998-2000, Sidwell was the director of marketing operations for the New Orleans Saints.
Sidwell is married with three children.
Know someone with a powerful USF story? Let us know! usfnews@usfca.edu | Twitter @usfca