San Francisco Advantage
USF "Likes" Social Media Summit
Learn How to Promote the Public Good With Interactive Media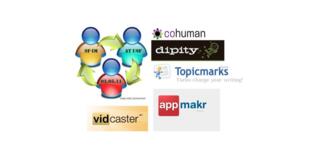 The University of San Francisco harnessed its connections to Silicon Valley and the Bay Area's unmatched social media industry to host the San Francisco Interactive Media Summit – aimed at introducing students, faculty, journalists, and public relations officers to a new breed of social media.
Rather than using social media to "throw sheep" at each other on Facebook, summit organizers introduced attendees to social media tools that contribute to the public good, said Ed Lenert, adjunct media studies professor, who is co-organizing the event with Michael Robertson, associate professor of media studies.
SF-IM Summit attendees learned from social media developers and practitioners about how to create their own iPhone apps, scour and summarize large amounts of text briefly and succinctly, and create interactive timelines using video and photos, just for starters.
"Our students and faculty might not even know it, but they're at the center of the new social media universe," Lenert said. "We want them to be able to capitalize on that opportunity to be able to promote the public good in their careers."
Free to current USF students and faculty, the conference's scheduled presenters included Kwan Booth on how Oakland Local uses social media to make journalism a two-way dialogue, Kevin Kunze, a USF student, on how to fund a feature film on Kickstarter, and Alicia Upano on how Not in Our Schools uses social media to counter hate and create tolerance in schools and other public institutions.
The daylong summit, organized by the USF media studies department, was 8:30 a.m. to 3:30 p.m. March 5.
Know someone with a powerful USF story? Let us know! usfnews@usfca.edu | Twitter @usfca