The University of San Francisco is among the top 10 research universities in the country for the number of Fulbright scholars it produced in 2009-10.
Four USF faculty claimed Fulbright scholars awards this academic year, in specialties as diverse as multicultural education, business, and teaching English as a second language.
Overall, USF tied for 10th among U.S. universities for the number of faculty receiving Fulbright scholars awards for 2009-10.
"This ranking is another demonstration of the excellence of our faculty and the key role they play in providing our students with a global perspective that will allow them to become leaders that will create a more humane and just world," said USF Vice Provost Gerardo Marin, noting that USF was the only Jesuit university and the only university of its size in the top 10.

USF Professor of International and Multicultural Education Susan Katz will use her Fulbright grant to trek into the remote Amazon rainforest to study and live among the Shuar, an indigenous population in the southern Amazon region of Ecuador.

She'll divide her time delivering a series of presentations on her past bilingual research at the Latin American Academy for the Social Sciences in Quito and conducting new research with the Shuar Federation on the effects of bilingual education in its schools.
J.P. Allen, associate professor of information systems, will take three months to teach an MBA course on innovation management and technology at the University of the Azores in Portugal. Building on similar USF-developed courses at another Portuguese university and universities in the Canary Islands, Allen intends to bolster the course's focus on open innovation and internet-based innovation.
"Through the MBA course, student advising, and faculty knowledge exchange, our proposal is to focus the innovation and technology management discussion for the Azores on opportunities that take advantage of technology shifts favoring geographically remote locations," Allen said.

He also plans to add a business plan competition to the curriculum, in which MBA students learn to develop viable business plans to attract investment.
Another professor taking a technology slant with her Fulbright is recently retired business Professor Heather Hudson. As part of her Fulbright, Hudson accepted a research chair position at Carleton University in Ottawa, Ontario in Canada. She'll study the socio-economic impacts of Canadian national policy aimed at extending Internet broadband to rural and remote areas.
Mary Burns, an adjunct professor of English and composition at USF for many years before departing last semester, plans to use her Fulbright to teach English in Lebanon.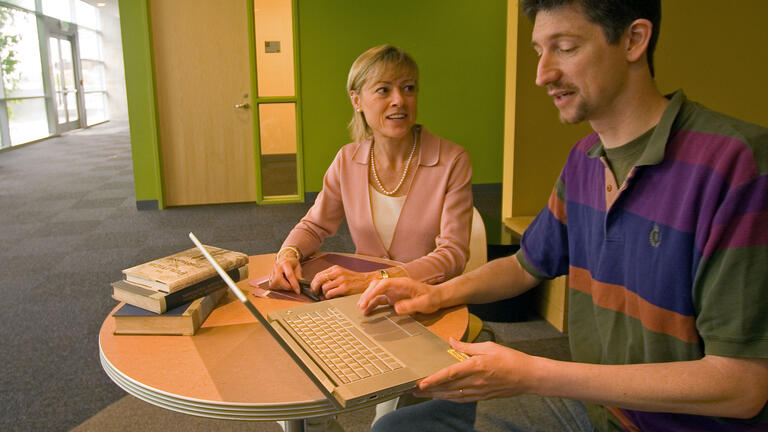 J.P. Allen (right), associate professor of information systems, was one of four USF faculty to win Fulbright scholars awards in 2009-10. Allen will teach innovation management and technology to MBA students at the University of the Azores in Portugal.