Passion for Justice
USF Faculty Speak Out for Separated Families
"This is not a Republican or Democratic issue — this is a human rights issue."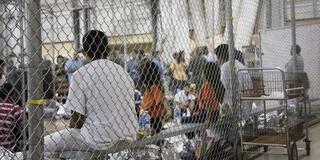 In response to the treatment of immigrant families at the U.S.-Mexico border and in ICE detention, Counseling Psychology Professors Belinda Hernandez-Arriaga and Daniela Domínguez wrote "Reunification of separated immigration families is not enough — offer U visas" in the San Francisco Chronicle. 
The Aug. 15 op-ed describes the effects of toxic stress on children who are forcibly separated from their families. When a group of USF students and professors spoke with recently released families in McAllen, Texas this summer, the children described cages, dehydration, and rancid food. According to Hernandez-Arriaga and Domínguez, there are no government programs currently in place to provide professional support after families are released. To help address the trauma caused by "an inhumane government policy," they are calling on professionals and caring citizens to become advocates for these children and their families.
Borders do not supersede humanity. The act of separating children from their parents is cruel, toxic and lasting. When the government fails to help, we as educators, therapists, counselors, doctors, professionals and caring citizens must step up and become change-makers. Theory and study must be put into practice to help repair what these policies have broken.
READ THE FULL Op-Ed in The SF Chronicle