USF Donates Computers to Close the Digital Divide
The University of San Francisco and the Tenderloin Technology Laboratory are celebrating a decade of partnership in their effort to narrow the digital divide by providing computer access and know-how to homeless and low-income residents of San Francisco's Tenderloin district.
Image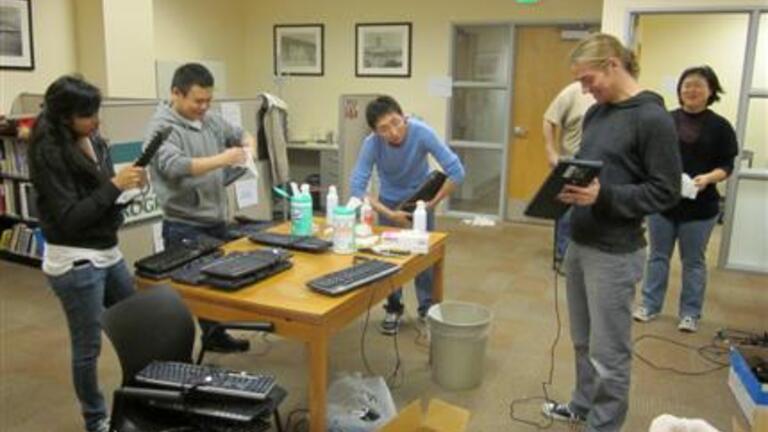 The arrangement with the Tenderloin Tech Lab, the largest of USF's technology donation partnerships, is in good company with the university donating about 150 computers each year to Bay Area nonprofits, schools, and organizations that expand educational opportunities and spread social justice.
What: The Tenderloin Tech Lab will debut its renovated facility May 12 in ceremony celebrating the lab's 10-year relationship with USF. Craig Newmark, founder of Craiglist and a generous supporter of the lab, will speak along with USF President Stephen A. Privett, S.J.
When: 1:30-3 p.m., May 12
Where: Tenderloin Tech Lab, 150 Golden Gate Ave.
"The Retired Computer Donation Project was established in response to the USF community's desire to support local organizations aligned with the university's mission," said Steve Gallagher, vice president of Information Technology Center.
USF began donating equipment and tech support, separately, to St. Anthony's Foundation and San Francisco Network Ministries in 2001. The two nonprofits were running a vocational job-training center and drop-in computer lab, each with 10 computers, respectively. When demand for both programs spiked, a grand plan to collaborate was born. In 2008, the vocational center and drop-in computer lab joined forces to become the Tenderloin Technology Lab, jointly operated by St. Anthony's and Network Ministries, with USF donating 50 retired computers. USF students, faculty, and staff volunteered to set up the lab.
The lab's mission is to provide homeless and low-income residents of the Tenderloin with skills and resources to improve their ability to locate work through online job sites, connect with family and friends, and find resources such as housing, food stamps, health care, and public transportation. 
Ten years later, on May 12, USF, St. Anthony's, and Network Ministries will celebrate a milestone in their partnership, as USF continues to provide upgraded equipment on an ongoing basis and USF students, faculty, and staff donate time. "USF students teach computer classes, tutored St. Anthony's clients, provided tech support to the lab, and developed software for lab use," said Chris Brooks, USF associate dean for sciences and associate professor of computer science.
Karl Robillard, St. Anthony's communications and outreach senior manager, said the tech lab wouldn't have been realized without USF's involvement. "It's service learning at its best," Robillard said. "I think USF students are often surprised by how much they learn from working at the tech lab along side local residents."
In 2010, USF donated computers and other technology to the Tenderloin Tech Lab, De Marillac Academy, La Raza Centro Legal, Friends of the Street Children, and the West Bay Pilipino Multi-Service Center, among others.
These programs often have an extremely limited budget or no budget at all for computer purchases and rely on donations. "Computers that no longer meet the administrative and academic computing needs of the USF community may still provide years of value for these organizations," Gallagher said.
Indeed, Robillard has seen it again and again as Tenderloin residents at the lab search and find jobs on Craigslist or reconnect with family and friends that they haven't spoken to in years on Facebook. "That's when you really see a difference at the individual level," Robillard said.