USF Community Recognizes Women in Leadership & Philanthropy
Women Creating Impact on Giving Tuesday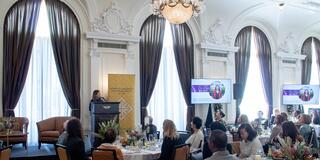 On Tuesday, November 29, 2022, the University of San Francisco hosted its fourth annual Women in Leadership and Philanthropy Impact Breakfast at the Olympic Club in San Francisco. The day's theme of "Women Creating Impact" was a sentiment that was carried out by a series of inspirational testimonies and the spirited crowd in attendance.
Image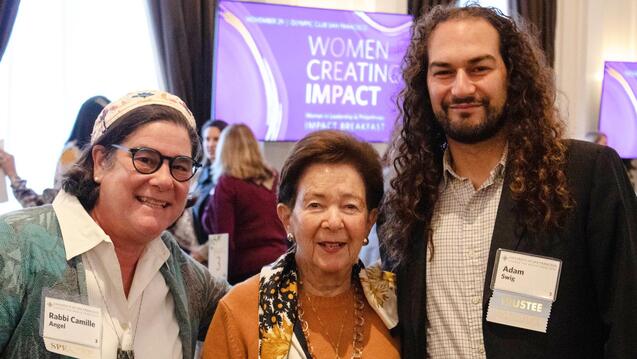 As guests arrived that November morning, they were greeted by a hall adorned with green and gold holiday garlands, an assortment of breakfast treats, and warm smiles that filled the air. Camille Shira Angel, University of San Francisco's first Rabbi-in-Residence, opened the event with a note of gratitude for women fostering a more humane and just world.
With the promise of a new year of opportunity and philanthropy ahead, master of ceremonies, Liliana Blanco Fernandez '21, invited speakers and attendees alike to reflect on what it means to give in support of USF initiatives and programs. Her message of turning around, reaching back and bringing someone along resonated throughout the day as a dimension of philanthropy.
Following the testimony of a USF undergraduate student, was a conversation with panelists Vivien Wang and Dominique Tan '12. The discussion was moderated by Lindsey McClenahan and touched on the impact of philanthropy through a more intimate, cultural lens. Both women shared their passion and commitment to provide opportunities for women of color and vulnerable populations through education. Some of the university programs that were highlighted for being in need of support include the International Student Ambassador Program and The Universal Access Scholarship.
"When it came to giving, I was happy knowing that I could give to a cause that was meaningful to me. To give to USF's International Student Fund was to connect to something that was relevant to me and came naturally," said Vivien Wang.
Philanthropy
Roselyn "Cissie" Swig '06 received this year's Women in Leadership and Philanthropy Heart and Soul Community Champion Award. Adam Swig, her grandson and USF trustee, joined Swig on the stage to share the inspiration that Cissie provides to him personally, their family, and the community.
"How lucky is our community to have found a campus with individuals who really projected themselves into who they wanted their students to be and allowed those students to become themselves," said Cissie. She shared the following words to live by: "Know thyself."
The day's program concluded with closing remarks by Eileen Chia-Chung Fung that spoke to the need for equity-centered education. Her words encouraged those in attendance to fuel their gratitude and make a lasting impact on students who come to the Hilltop from all over the world.
---
If you were unable to donate on Giving Tuesday, it's not too late to join in on the giving season and make your gift now.