Upward Bound Math & Science USF Winter Update
Upward Bound Math and Science (UBMS) at USF had a great fall semester. UBMS launched Quantum Leap in four high schools in San Francisco. This science club exposed students to hands-on experiments while feeding their natural scientific inquiry. Quantum Leap Clubs allowed UBMS staff and USF student-interns to tutor students in math and science. Our goal is to be seen as the science, technology, engineering, and mathematics (STEM) experts in the schools we serve.
Intense support was provided to our seniors ensuring that they submitted their common applications and prepared for the SAT/ ACT test. While students have not started hearing back from universities, UBMS students applied to institutions across the country with a large focus on the CSU and UC schools. In addition, students applied for scholarships and prepared to apply for financial aid. UBMS served 29 seniors in our Senior Bridge program this fall.
UBMS launched a recruitment push to make sure we serve as many students as possible as we prepare to graduate our seniors. We enrolled 30 new students who were able to explore the USF campus by participating in a scavenger hunt with USF student-interns. They also explored STEM careers through small group discussions with a paleontologist, an eBay data analyst, a mathematician, an engineer, and a genetic counselor.
UBMS celebrated the holidays by hosting a field trip to the San Francisco Bay Aquarium. Students learned about local marine life including sharks, otters, and jellyfish. Always with a social justice focus in the fore, UBMS dined at Delancey Street Restaurant that is built by and staffed by formerly homeless adults. Students met professional staff that personified the mission of Upward Bound - where you come from does not have to dictate where you end up.
UBMS is looking forward to the spring when we will take off on our Northern California college tour and provide ACT preparation for our juniors. 2016 is UBMS' 50 year anniversary at USF. We are launching our "50 in 50" campaign with the goal of raising $50,000 in the year of our 50th anniversary.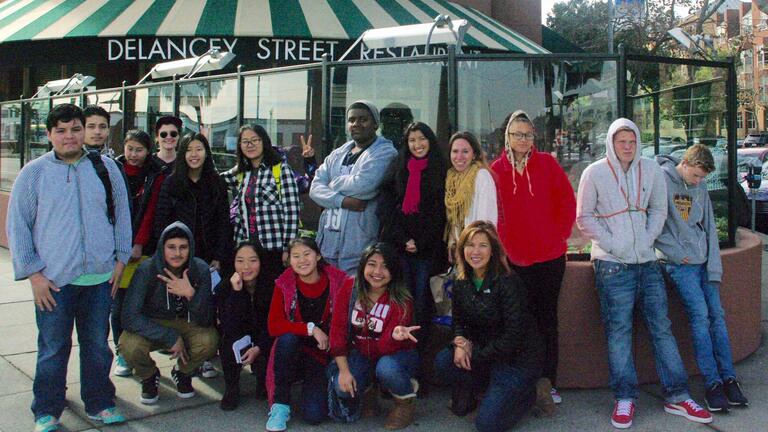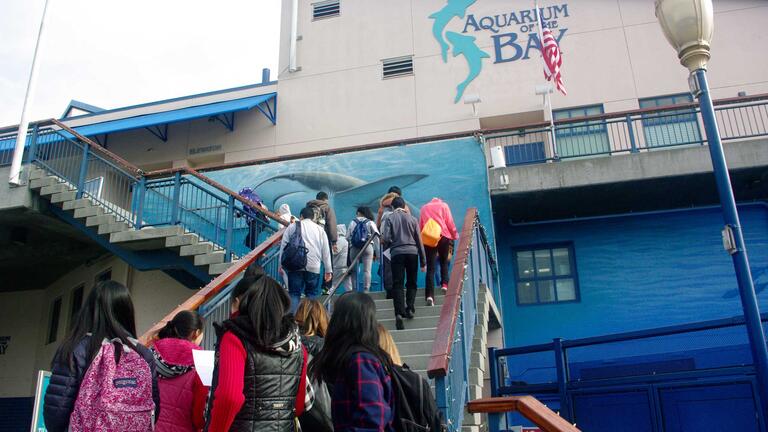 UBMS students enjoy a meal at San Francisco's Delancey Street Restaurant as part of a field trip to celebrate the holidays.
UBMS students visit the San Francisco Bay Aquarium to learn about local marine life.