Athletics
Tokyo-Bound Dons
Four USF athletes head to the Olympics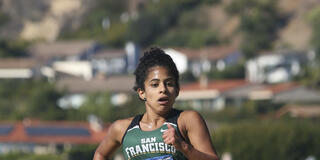 Four former members of the University of San Francisco cross country and track and field teams have earned entry to the 2020 Summer Olympic Games held in Tokyo later this month.
Three Dons, Lizzie Bird (England), Elena Burkhard (Germany), and Lea Meyer (Germany) will compete in the steeplechase, while Maor Tiyouri (Israel) is set to run her second Olympic Games in the marathon.
Tiyouri has had a brilliant distance running career, but her path to her second Olympic Games was stressful to say the least. After battling COVID-19 in December, the former Israeli 5,000 meter record holder needed to run her best race ever to meet the new qualifications for the Olympics.
In 2016, the qualifying time for the women's marathon was 2:45.00. In 2020, the time to qualify for the games was 2:29:30 – 13 minutes faster than her previous best. However, she was up to the task. In April at the 2021 Cheshire Marathon, she clocked in at 2:29:03.
Bird punched her ticket to her first Olympic Games on June 26 at the Muller British Athletic Championships. She took first in a field of 10 competitors, finishing with a time of 9:35.56 – four seconds faster than the top ranked runner in the field. Bird's tremendous summer would continue when she set a new personal-best and a national record in the steeple with a time of 9:22.80 at the Monaco Diamond League meet on July 9.
Meyer, a teammate of Bird's on the Dons' 2018 track and field team, has had an excellent summer as well. She took second in the German Championships on June 2, and a week later she once again took second in Nice, France with a time of 9:29.26 to qualify for Tokyo.
Burkhard, who graduated in 2017, will join Meyer in the 3,000 meter steeplechase. Burkhard qualified when she took eighth in a race in Stockholm, Sweden on July 4. She crossed the finish line with a time of 9:27.81.
For updates on USF's Olympic Dons be sure to follow Dons track and field on Twitter and Instagram at @DonsXCTF.