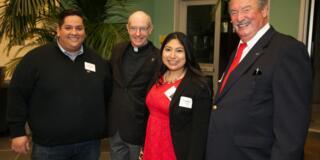 Raul Aguilar '93, co-founder of USF's original Latinx alumni society, La Compañia, is remembered for being a compassionate leader for students through his unceasing devotion to their success within higher education. 
Over several generations, USF has provided a foundation for students, alumni, and staff to generate unique connections between their backgrounds and their journey as individuals looking to serve the world. Anthony Martinez '68, Raul Aguilar's friend and colleague, and Raul's daughter, Charlene Aguilar, share how his legacy of stewardship was heavily influenced by his roots and his allegiance to the USF community.
"When I met Raul, I was so delighted to know that someone like me had attended USF. It convinced me that the institution had a long-standing relationship with the Latino community in one fashion or another," said Martinez.
In the late 1980s, Raul and Martinez co-founded an alumni affinity group within the Latinx community, calling it La Compañia.
"La compania means the company. That's the translation from English to Spanish. And if you know the Jesuit history, you know that followers are known as the company of Jesus Christ. That's the name I gave to our journey," said Martinez.
Raul thought this was the perfect name as it not only encapsulated the hispanic society they were looking to build, but that it would also represent the diversity that USF had to offer. 
Shortly thereafter, the two launched the Saber es Poder Scholarship to assist Latinx students looking to carve their respective paths in the world through leadership and service. Having both experienced financial hardship as a part of their family life, they wished to show solidarity for younger generations that are limited by similar circumstances. 
To date, the Saber es Poder Scholarship has raised over $200,000 dollars for close to 50 students.
Passion in Practice
Raul lived a life in service to those, especially adolescents, striving to expand their minds and seeking spiritual exploration through higher education. 
"He always believed that education would lift you and give you access to worlds beyond what you might know. It was imperative for you to feel responsible for bettering your community as you were lifted," said his daughter, Charlene.
Being that he and his wife started their family early on, he was also seen as a constant source of encouragement to his children and others that felt they could relate to his experiences. 
Charlene shared that he was a coach and mentor to the young men and women of her community, many of whom he often referred to as his sons and daughters. 
"Mom and dad would dance with students. He would remember everyone's name and loved to hear stories about their lives, he was very gregarious in that way," added Charlene.
As a former co-chair of the Latinx Society, Raul worked to usher in the next generations of Dons. Under Raul's leadership, the society worked with the Alumni Mentor program to mentor Latinx students, hosted a career workshop, and volunteered in their community.
"Raul was a pillar of the Latinx community and throughout his years of service to the university, he remained committed to serving Latinx students. He was relentless in his commitment to supporting and fundraising for the Saber es Poder scholarship so that Latinx students could succeed at USF. He will be dearly missed by the alumni community," shares Taryn Moore '06  MA '08, director of alumni engagement.
Solidarity and Honor
Martinez hopes that Raul's life and work will not be just a collection of memories to those he knew, but part of USF's history. He maintains that their dream to expand the Latinx community at USF was nothing short of their humbling reality.
"Raul exemplifies an ultimate Don. He was truly an authentic example for younger generations and a gem to those he surrounded himself with," said Martinez.
Charlene trusts that the work that her father put forward for the growth of young minds will be remembered as a staple for the Don's community. 
"He was faith-filled and centered–a philosopher that wrestled with the big questions in life and focused on comunidad, equity, and equality for all," shared Charlene.
To support the Latinx Alumni Society and cultural affiliations at USF, consider joining a society or making a donation to the Saber es Poder Scholarship fund.