Giving
Love Story: From the Steps of Gleeson to Community Ministry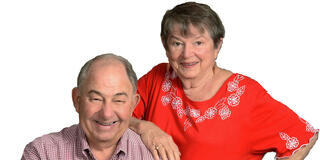 They met as students at USF and were engaged on the steps in front of Gleeson Library. Fifty-one years ago, Mike Taylor and Susan Carr were married in St. Bartholomew Church in San Mateo.
Sounds like a real USF story, yes?
It is, mostly because the Taylors have gone on to live the USF mission, first building careers in the military and the medical field, and then moving beyond to community ministry. Once retired, they embarked on a journey to Tucson, Arizona to lead Southwest Medical Aid, a nonprofit organization that accepts and distributes donations of reclaimed medical supplies to marginalized communities.
Finding Each Other
Before meeting each other at USF, neither Mike nor Susan were thinking about marriage.
"Before USF, he was studying to be a Dominican priest, and I was studying to be a Holy Names SMJN sister. It did not fulfill our expectations so we continued our education at USF," Susan said.
For Mike, USF was the perfect opportunity to find the kind of Catholic community he was searching for.
"USF was a chance to expand my horizons and be in a more challenging and Catholic-based community," he said.
They met in their last year at USF, at a sociology department meeting.
"I found Mike," she said, laughing. "I saw him at a sociology meeting, and he had red cheeks, and he had hair then, and he was cooking for other students and I thought, 'Oooo! That guy is cool!'"
Their first date was in March 1967. By the following month, the Taylors were engaged.
"We were engaged at Gleeson Library because that was just one of our regular places for meeting, and the steps were configured in such a way where the two of us could sit comfortably and talk," Mike said, smiling. "We had a good view of the majority of campus."
Starting a New Life
After graduating from USF and getting married, the Taylors built full lives and careers. Mike served 23 years in the U.S. Army, then worked at Arctic Slope Regional Corporation, beginning as a director and finishing his career as the president and CEO. Susan worked as a medical assistant, starting in Ohio and moving onto the Weed Army Hospital in Ft. Irwin, California, and later earned her geriatric certification in Sacramento.
Once retired, they looked for something new.
"We had a Salvatorian priest friend whom we knew from Sacramento, and he knew about one of the ministries in Tucson," she said. "We went down for a week and fell in love with the people and the idea."
Soon, they were preparing to begin this new journey as Co-Directors of Southwest Medical Aid.
"We started inviting neighbors, friends, and parishioners, and then we'd sit down and talk to them," he said. "And we'd say 'Ok, we are going to start a whole new life in Arizona, so if there is anything in this house you like, it's yours—take it. And, they did.'"
The Taylors spent a year and a half at Southwest Medical Aid, helping the community with daily requests for medical supplies and equipment. Mike ran the operations of the organization, while Susan worked in customer relations.
Today, the Taylors are dedicated to finding a new ministry so that they can continue to help make a difference in their community. They give back to the University of San Francisco by donating to the USF Fund, which supports the greatest need at the university. They hope current USF students and alumni share their passion for supporting others.
"I think students should take what they have learned and get ready because life can get difficult or exciting," said Susan. "Be compelled to hear people's stories and give gifts back with encouragement and humility and understanding."
Learn more about supporting the greatest need at USF 
This gift was made in support ofChanging the World from Here: Campaign for the University of San Francisco.