Global Perspective
The New MAPS Cohort: A Rich Diversity of Skills and Interests
The month of August is a time of significant transitions as summer winds down, vacations end, and work or school once again requires full attention. For the incoming cohort of first-year Master of Arts in Asia Pacific Studies (MAPS) students, August was a time of great anticipation as all their planning, preparations, and migrations from various parts of the planet connected them to the dynamic realities of the University of San Francisco (USF) and greater San Francisco. For us, as program administrators, it's always an exciting moment when the people with whom we have communicated in earnest finally appear in person to start their graduate careers.
We are delighted to welcome a new cohort of 19 students. Some are from San Francisco and Sacramento, others from far off Southeast Asia (Thailand) or East Asia (China), and others still from other parts of North America, including New Jersey, New York, Pennsylvania, Tennessee, and Texas. We were impressed by the strong academic and professional backgrounds and inspiring stories of this group, which include a number of students who graduated with honors from fine universities and those with impressive personal and professional experiences in various spheres: business, construction equipment, information technology, internship coordination, martial arts, the military, mobile software, radio voice acting, study abroad, and student government and leadership, among others. Their rich diversity of interests, skills, curiosities, and motivations will flourish in the MAPS program, which offers a new and improved curriculum with both Humanities/Social Sciences and Business tracks and whose faculty and staff was awarded the 2015 Collective Achievement Award for the University's College of Arts and Sciences.
MAPS' opening orientation on August 18 covered not only important policies and procedures, but it also provided a campus and library tour, including a visit to the Ricci Institute and a glimpse at some of its historical holdings. After a few presentations by recent graduates, current students, and Master of Business Administration (MBA) and Gleeson Library administrators, a tasty buffet dinner expertly organized by program assistant Annmarie Belda provided nourishment for well-deserving participants. There was much animated conversation as new colleagues and instructors learned more about each other and the various roads ahead.
Everyone teaching in the program greatly looks forward to delivering a quality academic experience, supplemented by many opportunities outside the classroom. To this end, the Center for Asia Pacific Studies symposia and lecture series  will provide a number of accomplished speakers on topics that are sure to enhance understanding and appreciation of the Asia Pacific region.
So once again, we welcome everyone in the new cohort to the "best city in the world" and, in our humble opinion, the most innovative and accomplished Master of Arts in Asia Pacific Studies program on the West Coast, now in its 23rd year!
Know someone with a powerful USF story? Let us know! usfnews@usfca.edu | Twitter @usfcanews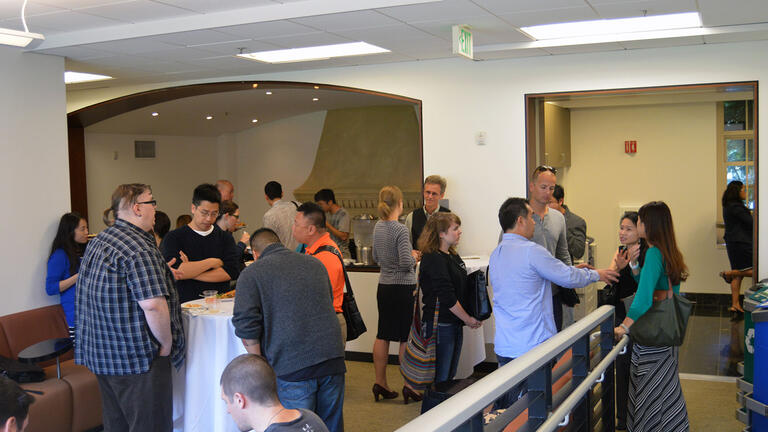 MAPS' opening orientation