Giving
The Hamills Pledge $1 Million to USF Law School
Steve and Jan Hamill laugh together when they recall how, more than 40 years ago, they nixed the purchase of their first house in favor of Steve enrolling in the USF School of Law.
For them, it was an easy decision "to maximize our educational opportunities," says Jan. A few years later, after Steve graduated, they started giving back to the university, maybe $5 or $10 a year.
Today, the Hamills support students in the classroom, by giving to scholarships, and also by endowing the Hamill Family Chair, which funds an important faculty position at the law school. They have also supported law clinics, giving students real-world experience.
Most recently, they pledged $1 million to the School of Law, choosing again to make an important investment in the school — the institution that Steve credits with changing his life.
"If the road to betterment is an education, I can't think of a better education than law, and I can't think of a better place than USF," he says, continuing, "and, I can't think of a better mission than the Jesuit mission."
Through their acts of leadership and generosity, the Hamills are making a permanent mark on the lives of many at the university, USF School of Law and at other places in our communities, says SOL Dean John Trasviña.
"Steve and Jan Hamill are an extraordinary couple," says Dean Trasviña.
"With this new pledge, they demonstrate their dedicated commitment to the future of the University of San Francisco School of Law," he adds. "They strengthen our capacity to offer students from all walks of life a vibrant and relevant legal education that is the hallmark of the law school. Moreover, they continue to be models and an inspiration for other alumni to partner with us in training the next generation of California's lawyers and leaders. We are most grateful."
The Importance and Value of Education
Education is a core commitment of the Hamills. They met at the University of California, Irvine, where Jan was studying philosophy and Steve majored in liberal arts.
She grew up in the Coachella Valley, on a citrus ranch, and moved to the Bay Area in seventh grade. Steve was raised in the San Fernando Valley. He talks about his mother's strength, raising him and his three brothers after she and his father divorced.
Steve and Jan married young, at 18 and 19, and moved back to the Bay Area after he graduated. She transferred to UC Berkeley, graduating with a degree in philosophy, while at the same time raising their young son. She was one of only seven female students in the philosophy department.
Their parents did not graduate from college. "It was so important to our parents for us to graduate from college," he says. "Although they did not have the opportunity, our parents recognized the importance and value of an education."
After graduating, Steve knew he wanted to "do something positive and give back," so he decided to pursue a path in government. He attended night school at California State University, East Bay, to get his master's degree in public administration.
His government career started, literally from the ground up, with the City of Lafayette road crew while attending night school. He applied for two 20-hour internships to gain administrative experience — one with the City of Concord and one with Alameda County government. He was offered a full-time position with Alameda County. Over 14 years with the County, he rose to become the assistant county administrator responsible for the County budget, finance, and legislative programs.
But, after earning his master's degree, Steve and Jan were at a crossroads. They describe one evening at a diner. In her hand was a letter from USF, saying Steve had gotten into the School of Law.
At the same time, they had put together a plan to buy their first house. "Jan said we should choose law school," he says. "We chose law school as a more pragmatic choice than a house for our long term growth and future."
He graduated from USF Law in 1978, worked for Alameda County another 8 years and, in 1986, opened a practice in Pleasanton, focusing on business and real estate. Jan was there to manage the office, and they balanced work and family together.
"I'd be in trial all day," he says. "I'd go home and take care of the kids, while she went back to work and worked on the trial motions for the next day."
Fulfilling the USF Mission
He went on to create two businesses, California Communities and U.S. Communities, which provide tax-exempt finance for public benefit projects and public cooperative purchasing programs to government agencies nationwide. Jan is co-owner of a dance studio.
They have two children, Dr. Chad Hamill, a professor and VP of Native American Initiatives at Northern Arizona University, and Lindsay Hamill Penkower '05, a SOL graduate, and five grandchildren.
Today, as chairman of the Board of Trustees at USF, Steve Hamill is driven, along with his fellow trustees, to make USF a better institution every day.
USF's future is bright, he says, and the goal is to fulfill the mission of serving the underserved while also graduating the next leaders in business, technology, and law.
"That's who we are. The mission and the innovative education go hand in hand."
He and Jan, now married 47 years, continue to support education.
"Every time you take a step in education, you want education to be a door, not a just a window. Our goal is to maximize educational opportunities for others so that they can open the door to their potential to succeed both in life and in service to the underserved."
Giving to USF supports the education of a new generation of global leaders. Find out more
This gift was made in support of Changing the World from Here: Campaign for the University of San Francisco.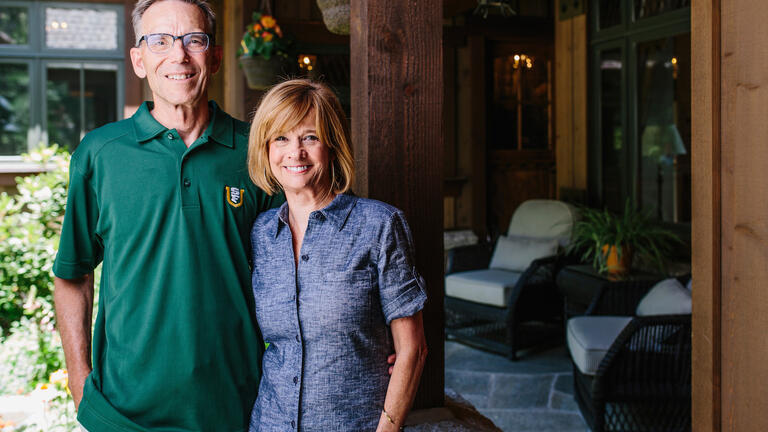 Steve Hamill, chairman of the Board of Trustees at USF, and his wife, Jan, have a core commitment to support education.