The Amazing All-Star Ashley Atwell
With the NBA playoffs approaching, the University of San Francisco Sport Management Master's Program checked in with alumnae Ashley Atwell, '13. Atwell exemplifies that much like the playoffs, USF is a place where amazing happens.
While a student in the program, Atwell took a sport and social media marketing class with Adjunct Professor Bryan Srabian, three-time World Series winner as the Director of Digital Media for the San Francisco Giants. Atwell remembers a class after the video sharing service Vine launched in January 2013, when Professor Srabian led a lengthy discussion about what (if anything) the Giants should do with it.
Today, the Giants enjoy 55,000-plus Vine followers, good for fifth most in MLB. Atwell, meanwhile, has progressed from student to Team Digital Products Account Coordinator for the NBA. Looking back, she notes: "That moment in class is exactly what I deal with now at the NBA. There are new social media platforms and tech start-ups popping up all the time that teams must evaluate before they jump on."
Having worked as a Digital Site Coverage Coordinator with Pac-12 Networks while in school, Atwell now assists NBA teams on a variety of projects in all spheres of the digital scene: websites, apps, in-arena digital campaigns, etc. She credits the simple, powerful mentality instilled from her first class in the program, "Get it Done" with helping her prioritize and execute her tasks. And of course she still discusses the industry with Professor Srabian, not as academics, but as business colleagues.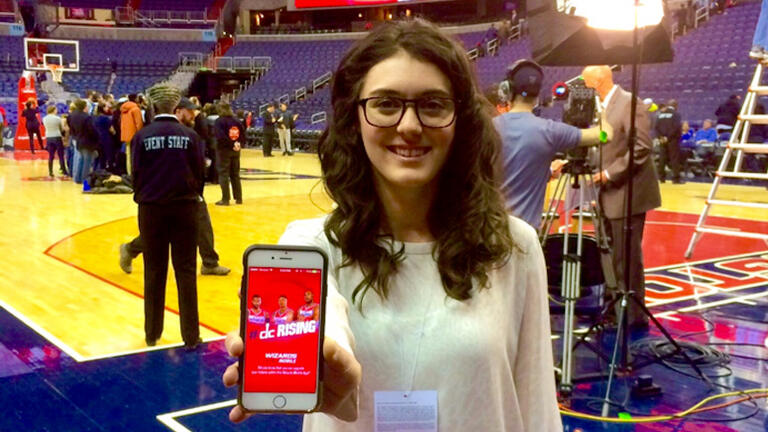 Atwell, '13, testing the in-arena features of the Washington Wizards fan app.