Diversity
Success for Black Students
New USF initiative tackles racial disparities with support and scholarships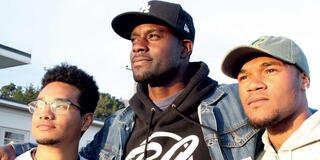 Though Mike'l Gregory '22 was accepted by UCLA and UC Berkeley, he says he chose USF because he wanted "to be in an inclusive environment that really cares about the needs of African American students." 
The San Francisco native and first-generation student was drawn to USF in part for its brand new Black Achievement Success and Engagement (BASE) initiative — which was designed specifically to recruit and support black students. The initiative has just begun its second semester.  
BASE offers programs for undergraduate and graduate students that focus on their unique experiences as black students, providing a critical sense of belonging. These programs include the Black Living Learning Community, in which students live together and explore the topic of race and racial identity in classes, and the Black Scholars Program, which awards scholarships to students interested in working with underserved communities, and teaches them how to be leaders. The Black Resource Center, a space for black-identified students to connect and receive academic and emotional support, opens on Feb. 22.
There are nearly two dozen first-years and sophomores in the Black Living Learning Community, and 13 students in the inaugural class of Black Scholars.
Mission matters
While black students made up 11.4 percent of all students enrolled in private four-year institutions in the United States in 2015, they only made up 5.5 percent of the student body at California colleges and only 6.1 percent at USF. Nationwide, black college students also tend to graduate at lower rates than white students.
Victoria Lamar '22, from Atlanta, is another BASE student who had her pick of top schools.
She decided on USF because "there is way more genuine support," she says. "I really like the mission of USF."
"BASE is a program about real achievement," says Candice Harrison, faculty director of the BASE program and a history professor. "This is not just about eliminating racial disparities — it's about fashioning humane leaders. It's about recognizing these students' potential and helping them live out that potential."
Know someone with a powerful USF story? Let us know! usfnews@usfca.edu | Twitter @usfcanews