Equipped to Lead and Succeed
Star Pitcher Kyle Zimmer Returns to USF
Kyle Zimmer got a $3 million dollar paycheck last year after signing with the Kansas City Royals, but that bonus came at a price: the junior had to leave the University of San Francisco before earning his degree.
After being chosen fifth in the first round of the draft—the highest pick in USF baseball history—Zimmer made a promise: one day he'd finish his degree.
Fighting malaria 
That day is now. He's back on campus, taking advantage of baseball's offseason, and working on his degree in business administration.
"It's weird to be back—going to class everyday, doing homework, taking tests," Zimmer says. "This past year, I've just been focusing on baseball. Going back to school is definitely a transition."
Zimmer is taking four classes, including one service-learning course, where he's helping expand USF's own "Strike Out Malaria" initiative, which provides mosquito nets to residents in Sub-Saharan Africa at a rate of $3 toward a $10 net for every strikeout. The program was started last year by Dons' pitcher/outfielder Bob Mott.
Looking ahead to spring training
Zimmer is also excited to be back in San Francisco. "It's such a great city. It's great to be back in the middle of it," he says. "All of my ex-teammates from here are still my best friends. They're off working 9-5, and I'm with them pretty much all the time that I'm not working out or in class." He also hangs out with his brother Bradley '15, also a Dons' outfielder.
Zimmer starts spring training in February, and if he does well, he could be promoted to the major league as soon as this season—an unusually fast rise for a player drafted just one year ago.
After this semester, Zimmer will be only two classes short of earning his USF degree.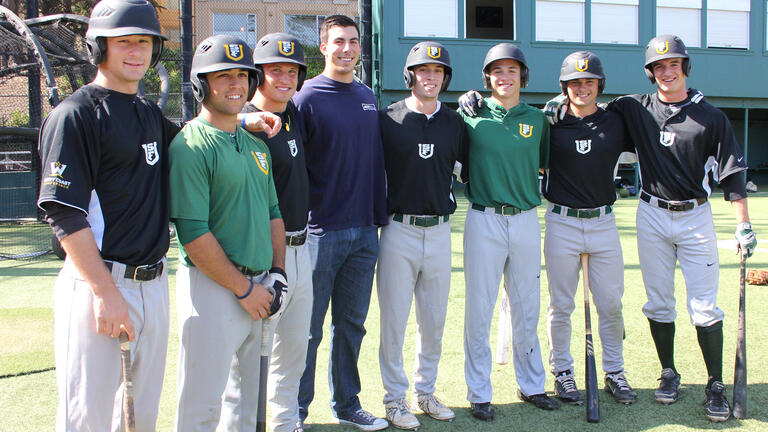 Dons former, star pitcher and Kansas City Royals' first-round draft pick Kyle Zimmer (fourth from left) is back on campus.