Giving
Spring into Gratitude
2021 President's Ambassadors Virtual Brunch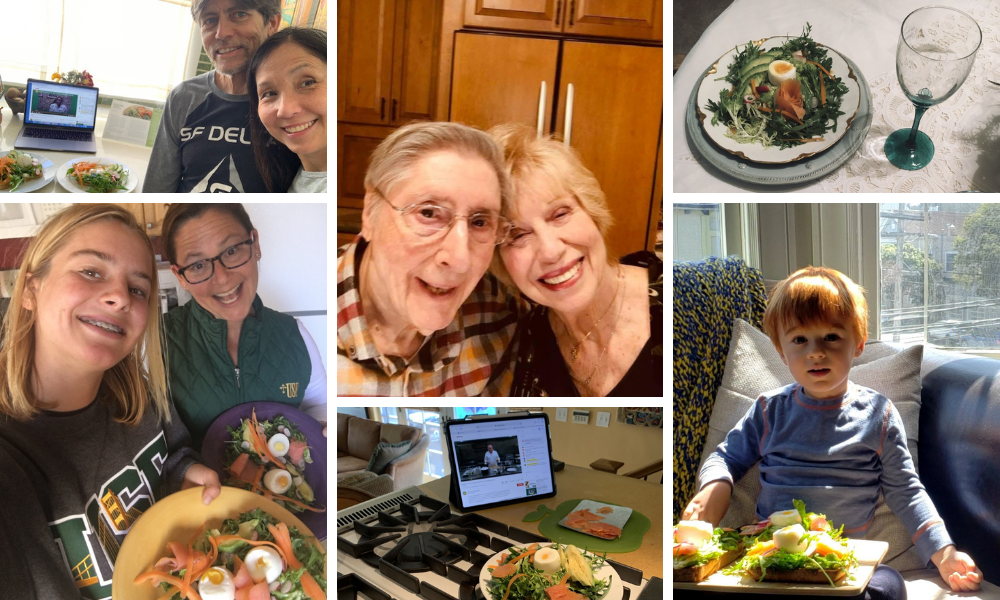 On Sunday, April 11, 2021, members of the President's Ambassadors Giving Society were celebrated for their continuous generosity to USF with the annual President's Ambassadors Virtual Brunch & Cooking Lesson. The President's Ambassadors Giving Society honors those who have donated a minimum of $1,000 to the university in a single year, and young alumni who have supported their alma mater at a reduced threshold.
This year's event also paid homage to Fr. John Lo Schiavo Legacy Society members for their generous contributions through the gift planning legacy opportunities.
Due to local restrictions, the event was hosted in a virtual format for the first time, opening the door to participation in the annual brunch from donors all around the country. Attendees spanned from local San Franciscans to Chicagoans and Hawaiians.
The event included the traditional mass, streamed virtually from St. Ignatius church, followed by remarks of gratitude from president Fr. Paul J. Fitzgerald, interim vice president of development Lindsey McClenahan, and USF students.
"I'm heartened by the community of donors here with us — your generosity exemplifies what it means to be people for others, especially during this unprecedented time," said McClenahan. "Every year, I look forward to this brunch as a chance to be in community with each of you and reflect on the collective impact we've made on the students, faculty, programs, and campus."
In a first for this long-time running event, Chef Jean Marc-Fullsack, hospitality professor and guest chef at the White House, led attendees through a virtual cooking lesson. Chef shared tricks of the trade on how to make avocado toast with a professional twist.
To follow along with Chef, attendees received an ingredient box, including produce from Star Route Farms, delivered to their doorstep.
Following the lesson, Fr. Fitzgerald closed the event reflecting upon the importance of the USF community to fulfilling the university's mission:
"As we witnessed here today from our students' stories, our USF community supports students to develop the knowledge, skills, and values to make a difference going out into the world and in service to others. This beloved community, of which you are all part, creates opportunities for our remarkable students to carry out our mission into the world. With my sincerest gratitude, thank you."
Are you interested in joining the President's Ambassador Giving Society or the Fr. John Lo Schiavo Legacy Society? Join today and learn more about USF's Giving Societies »