Giving
Flocking to Sites of Generosity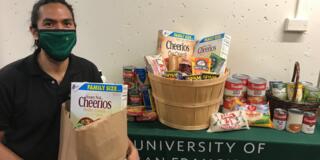 USF's Student Assistance Fund initially set out to aid students facing financial hardship. Due to an outpour of generosity from our donors and volunteers, especially in light of shifting circumstances due to the pandemic, contributions made to the fund have not only supported students seeking direct financial support in times of crisis but has also helped boost other university initiatives such as USF's Food Pantry.
A History of Empathy
In 2018, the Food Pantry was created as an immediate resource for undergraduate and graduate students confronted with food insecurity. Shannon Gary, associate vice president of Student Life and dean of students, Julie Orio, vice president of Student Life, ASUSF senator, and a small group of Student Life staff sought to secure lasting solutions for the students by providing an environment of awareness and employing practices of empathy for those challenged by food insecurity. 
"One of my mentors once told me that if one student asks about it, there are probably another 20 to 30 others with the same question, who just don't know where to go or who to see," said Gary.
What started as a group of four working for the pantry has since expanded to 10 USF community members as the numbers have indicated the need for increased support. As a result, Room G04, located on the basement level of Gleeson library, quickly became home to the pantry and a sanctuary for students. Here, they could access tools fundamental to thriving as a student and as a person. 
A Future of Humanities
In the year leading up to the pandemic, partnerships fostered among the Urban Agriculture Program, Bon Appetit, and other departments across campus provided a selection of produce, packaged food items, and supplies that were made readily available to students experiencing limitations to quality food and toiletries. 
During the 2020-2021 academic year, many USF students living in conditions impacted by COVID-19 contributed to an influx of food insecurity among the university community. Analysis taken by the Food Pantry concluded that among the most frequent pantry users were domestic USF seniors in off-campus housing. 
"This is a time in these students' lives when they're investing in their futures so we should be able to invest in them in return," a USF student said.
Due to the efforts of volunteers and donors, USF's Food Pantry has fulfilled 663 requests and served 226 students in the 2020-2021 academic year for a total of 1,533 requests and 536 students served since the program's inception. 
"We have been so humbled as a people, as a country, as a species that any time that we can receive help and give help, I think we should flock to those sites. There is no shame," said another USF student.
As we approach a time in the year particularly focused on the spirit of giving, the pantry and its collaborators welcome contributions of any size for the continued support of student success and life.
Support is still needed for students impacted by the COVID-19 pandemic. So we can continue to support our students, consider giving to the Student Assistance Fund in support of the Food Pantry.