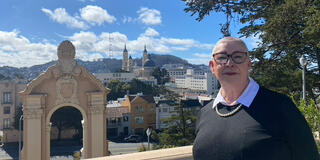 Beatrice Cardenas-Duncan '11, MNA '18 came to the U.S. from Mexicali, Baja California when she was 13 years old. Even without knowing the language, she could recognize the health care disparities in her community.
Following her high school graduation, Cardenas-Duncan moved to San Francisco where she witnessed an increase in the number of health conditions impacting communities of color. When a connection formed between her and the USF campus, she felt inspired to return to the classroom to explore a career in inclusive health policy at the age of 64.
"You are more likely to suffer the greatest health disparities if you face language barriers," Cardenas-Duncan said. "When I was being shown around the USF campus, I believed that my peers and professors would empower me to combat those odds."
The Power of Advocacy
Cardenas-Duncan attended night classes to complete her first degree in Organizational Behavior and Leadership at USF's School of Management while undergoing treatment for chronic myeloid leukemia (CML).
"My disease was never something that I or my professors would allow to derail my success or keep me from helping others," Cardenas-Duncan said. "If anything it was the catalyst for my desire to improve the health landscape in this city, this state, and our country."
Cardenas-Duncan's story of tenacity is at the forefront of her advocacy work. Her communications with California senator, Susan Rubio, tapped into her experience of being both a patient and a client to the health facilities where she received cancer treatment. This would help persuade her to advance the Cancer Medication Recycling Act that allows unexpired medication to be monitored and distributed to patients with financial need.
"I knew I could help others access medications that would otherwise be wasted. That was just one way I could put my story and illness to good use," she said.
In addition to providing accessible health resources, Cardenas-Duncan has spent her career advocating for preventative policy measures. Her recent work with San Leandro's Community health advocates helped the San Leandro City Council pass a Tobacco Retail Ordinance that stopped retail vendors from selling flavored tobacco products including menthol cigarettes effective 2023.
Getting Things Done Quietly
Cardenas-Duncan is the recipient of 15 acclaimed advocacy awards dating back to 1996, including the President's Call to Service Award under the Obama Administration in 2012. Her volunteer service and activism with several non-profit health organizations and California coalitions led her to speak to senators and legislators in Sacramento and Washington D.C.
"The environment in which I received my education was one that challenged me to become a good board member with a different perspective and an overall better person," she said.
Cardenas-Duncan has served on the board of several USF organizations including the Council of Diversity and Inclusion, the Alumni Association, and the Latinx Alumni Association. More recently, she has worked with the American Cancer Society and the American Heart Association on sharing the stories of other patients.
"A lot of people of color have done outstanding work before, during, and after their time at USF. I hope that the university can also take pride in those of us who quietly get things done," said Cardenas-Duncan.
As she looks forward to pursuing a doctorate degree, she is proud of how she has used their education to give back to the communities she came from.