Alumni
Lifting Spirits and Breaking Boundaries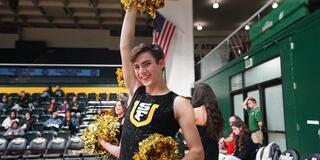 Sergio Leal '21 came to USF to earn a dual degree in dance and business. After undergoing ten years of dance training, he was determined to balance his career choices and maintain his enthusiasm for performing arts. Although his courses and co-curricular activities fit these criteria, Leal wanted to narrow his focus to a major within USF's School of Management. 
"I mainly wanted to move away from a theoretical approach [of dance] and take an active role in my passion," Leal said.
Little did he realize at the time, he would soon make history at USF while doing what he loves.
Shaping History Through Dance
The spirit squad is currently the longest-running cheer and dance team in the history of the university. The team, which traditionally consists of twelve members, prides itself on having promoted the USF spirit at most campus functions for more than a decade. 
After attending the team's annual fall workshop, Leal found that he enjoyed their style. The routines taught to prospective members included a jazz and hip-hop tone which reminded him of past routines he had performed.
At first, Leal felt uneasy about joining the team as he had never seen any male cheerleaders on campus. He overheard conversations about hairstyling and makeup looks that would be required for the October auditions. With this in mind, becoming a part of the team seemed like an unrealistic goal. 
"I was unsure of how the usual gender constructs would play into this," Leal said.
The team welcomed Leal and an additional male student to join them and continue breaking boundaries of gender norms and stereotypes.
Building Formations
Each week, the team dedicates about 12 hours to rehearsals and game appearances. All members must come to practice twice a week prepared to clean-up and polish all court-side, time-out, and half-time performances. Especially when basketball and other sport seasons are at their peak, the squad works tirelessly to create, teach, and perfect at least three new routines a week. 
"Being a member of the squad also calls for active engagement with alumni and the student body which has helped me develop professionally and personally," Leal said.
The team promotes university unity and spirit on and off the field and courts. Some campus-wide activities they attend include the annual Day of the Dons, the Athletics Hall of Fame Dinner, and various alumni events —all occasions at which they aim to rally and lift the spirits of the USF community. 
The team's performances culminate each year at the West Coast Conference championship in Las Vegas, Nevada. Every year, they accompany the USF basketball team to this championship tournament to cheer them on as they compete at the highest level. Unfortunately, the 2020 conference along with several other collegiate-level competitions have been canceled in an effort to prioritize the health of all student-athletes during the growing coronavirus pandemic. 
Breaking Ground in USF Athletics
Bringing smiles and entertainment to crowds of USF supporters is only part of Leal's role as a member of the spirit squad. He stressed how important it is for the team to represent the core values of the USF community in every way possible. The squad demonstrates their commitment to diversity as they continuously unite students, alumni, parents, and faculty members from all facets of life to celebrate one mutual cause.
"Many kids have come up to me to greet me and thank me for showing them that everyone is welcome on this court," Leal said.
He hopes that his dedication to the team will inspire others to go beyond bounds set up by society and follow their own dreams. Although this was a feat that required him to persevere on a personal level, Leal attributes much of his success to his team. 
Correction: May 28, 2020- This story originally stated Sergio Leal was welcomed as one of the first male cheerleaders at USF. We have corrected this. There were male cheerleaders prior to Sergio. He and other male cheerleaders are continuing to break boundaries of gender norms and stereotype
To learn how you can support USF Athletics, contact Brandon Graves, Associate Athletics Director, Development at (415) 422-2160 or blgraves@usfca.edu. 
To learn how you can support the School of Management, contact Diana Johnston, Director of Development, School of Management at (415) 422-4068 or djohnston@usfca.edu.